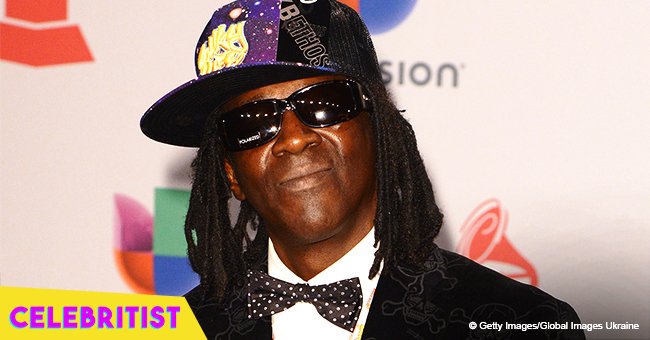 Flavor Flav's ex-flame Brigitte Nielsen announces her pregnancy at 54 with baby bump photo
Brigitte Nielsen, the 54-year-old actress and model who was in a relationship with rapper Flavor Flav, surprised her fans sharing two photos showing that she is pregnant.
The first one was uploaded to her Instagram account on May 27. In it, Nielsen appeared sitting on a small couch wearing a white dress with both hands over her big baby bump.
If the photo wasn't clear enough, Nielsen commented on her caption that her family was getting bigger and added the hashtag Baby Bump. The second picture was shared only three days later on her Instagram account, as well.
That one showed Nielsen sitting on a different couch wearing a different gown and placing only one hand on her belly. She was using her other hand to hold a Tablet, which was resting over one of the cushions.
Nielsen captioned that image commenting that it was a happy time and that she had positive vibes.
According to Vibe, Nielsen will be welcoming her fifth child. The father of the baby is Mattia Dessi, the 39-year-old producer who has been married to Nielsen since 2006, a year after she and Flavor Flav part ways.
One of the most interesting aspects about Nielsen and Dessi's relationship is that they met each other on the set of Strange Love, the VH1 reality TV series that feature the relationship that Flavor Flav and Nielsen had.
Vibe added that Nielsen used to fight a lot with Flavor Flav when they were together, so she decided to leave him for Dessi.
Even though she has not given details about her pregnancy, one thing is clear: women experience many risks when they get pregnant after the age of 40. As Health reported, the risk of pregnancy-induced preeclampsia increases about 35% when women are past 50.
Apart from that, Health added that babies born to over-40 women are more likely to be delivered earlier than expected and to have birth defects. So far, neither Nielsen nor Dessi has said anything about their upcoming baby. All that is left to do is wait for them to share information about them.
Please fill in your e-mail so we can share with you our top stories!