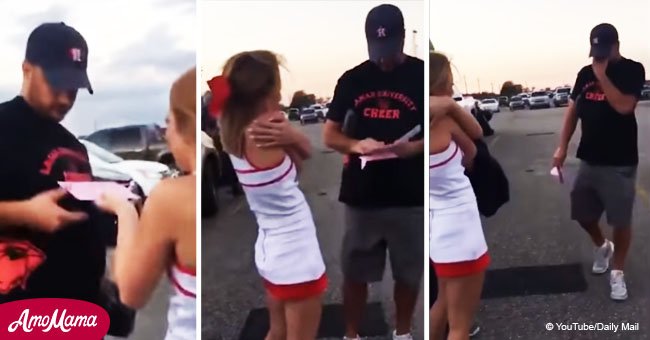 Video shows the tear-jerking moment stepdaughter asks man to adopt her
An emotional moment when a cheerleader asked her step-father to adopt her was captured on video.
The heart-warming video, which Daily Mail posted to its YouTube channel on March 8, 2018, shows the girl surprising her step-father with a card after giving him a hug.
Family members look on as the step-father, dressed in shorts and T-shirt, opens the card and breaks into tears.
According to Daily Mail, the unidentified family had just arrived at what appears to be a football game at Lamar University in Texas.
The cheerleader hugs her step-father, who is wearing a cap, and then hands him the card. The clip doesn't show what was written on the card, but one can surmise the note means a lot to the man.
After reading what's written on the card, the step-father places his hand over his mouth in shock.
"He's going to cry," one of the family members is heard saying.
The step-father walks around in a circle as he tries to hold back his tears. He then hugs his step-daughter.
"Of course I will," he can be heard telling his step-daughter.
Family members witnessing the sweet moment are also in tears.
It seems they knew it was going to be an emotional moment between the cheerleader and her step-father, as someone has readied a camera to record the moment.
The girl and her stepfather embraced three times in the sweet video.
The touching moment takes place in what appears to be a parking lot.
Please fill in your e-mail so we can share with you our top stories!