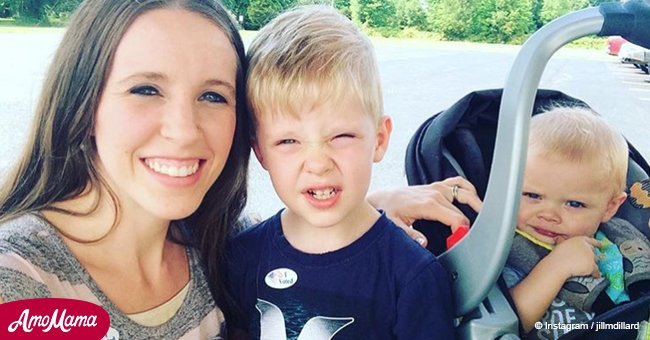 Jill Duggar has come under fire for photos of her children
This weekend, Jill Duggar posted a photo of herself and her two boys on social media. What meant to be an innocent image showcasing the boy's new t-shirts, turned into a bashing of her parenting skills.
The Instagram photo was targeted by followers as some of them felt the mother was neglecting them. People posted comments on how malnourished the boy's looked.
Jill Duggar has remained under the public's intense scrutiny despite the fact that she's no longer a television reality star. She and her husband, Derick Dillard, don't feature on TLC's Counting On anymore.
Despite not being on TV anymore, Duggar still posts about her family on social media. Her posts are generally about her life and her children but, somehow, followers always find something negative to attack her for.
Her recent Instagram post saw her being bashed because people felt her children were too pale. The image she shared showed Israel, 3, and Sam, 11 months, sitting on the stairs as they posed for the camera.
Most comments found on the post were positive, and many people mentioned that they missed seeing Duggar on the show. Her husband was fired for bullying a teenage trans girl online.
The harsh responses on her post mentioned how the children looked pale and malnourished. One user even felt that Duggar's children needed to be taken away from her.
This wasn't the first time that the former reality star had come under fire for photos of her children. She has been accused of abuse before because of blanket training.
The star had once confessed last year that she blanket trains her children from the age of 6 months. Blanket training is an allocated amount of time during the day where an infant or toddler is required to remain on a blanket or play mat for a limited period of time, with a few selected toys.
This method is something that has been taught by the Duggar family. Duggar was also shamed before for an incident where she used a tortilla to shade her son's head.
Even though the image had been meant to be cute, critics went wild about it. Currently, it's not clear what the family plans to do now that they aren't a part of the television show.
In an effort to have some privacy, Dillard recently made his Twitter feed private. This allows him to monitor who sees what he posts.
For more on this story go to our Twitter account @amomama_usa.
Please fill in your e-mail so we can share with you our top stories!