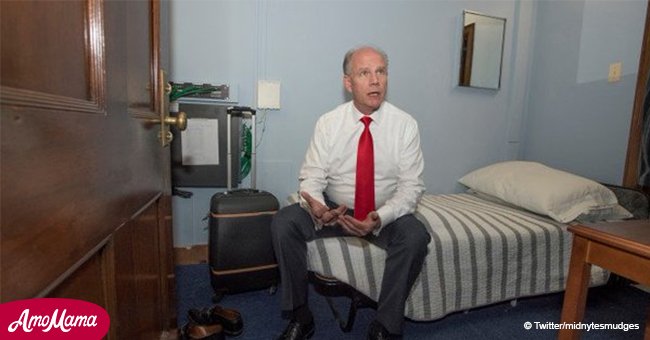 Congressmen sleeping in their offices say it's to save money off rent
Many House lawmakers are sleeping in their Capitol Hill offices to save money during the work week.
The Congress members in Washington are crying poverty amid decade-long stagnant salaries and Washington's steep cost of living, as reported by New York Post.
"Washington is too expensive," said Rep. Dan Donovan.
He credited the small bed that he sleeps on in his office as the reason he can still serve in Congress.
"If we go to the point where you have to rent or have to buy [in DC], then only millionaires would be members of Congress,'' he said. "I don't think that was the intent of our Founding Fathers."
However, some of their colleagues wanted their move to be banned because they believed it's unsanitary and undignified practice. They also believed that it's violating the congressional ethics rules.
A proposed bill that would forbid politicians from turning their offices into sleeping quarters is set to be introduced this month.
"Look, it's unhealthy. It's nasty. I wouldn't want to be entertained in somebody's bedroom," said Rep. Bennie Thompson, who is one of those sponsoring the bill to ban congressional sleepovers.
Thompson pointed out that sleeping in the office is not proper either.
"You get free cable. Free electricity. Free janitorial. Free security. No rent. It's a heck of a deal. It probably comes out to $25,000 to $30,000 a year that isn't claimed at tax time," he explained.
But the US reps main problem is money since they only get a salary of $174,000 a year with no housing allowance while working in a city where the one-bedroom pad can start at $2000 monthly. Aside from that, they also have to pay their residence in their home state.
"It must be the Army in me," said Lee Zeldin, a politician from Shirley. "Literally, from the moment I wake up from the moment I go to sleep, I'm just working without distraction. It's just the way I'm wired."
Thompson understood their problem and said something has to change.
Though he doesn't agree with a pay raise or per diem for Congress, he is asking the government to convert any available space into a dorm for members of Congress.
"I sympathize with the members' situation. But they knew what the salary was when they came. And now they found a way around it,'' Thompson said.
Read more on our Twitter account @amomama_usa.
Please fill in your e-mail so we can share with you our top stories!