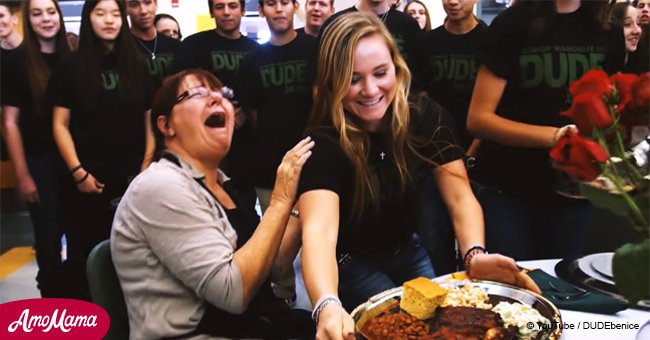 Students turned the tables on school lunch lady with surprise feast
Lunch lady Lynn was treated to her favorite food when the students surprised her for being nice to them every day of school.
Students at Bishop Manogue Catholic High School in Reno, Nevada, worked together with Dude. Be Nice project to surprise a cafeteria worker.
The video was uploaded on YouTube on March 3, 2015, and shows an elaborate plan by the students to do something kind for "Lunch Lady Lynn."
The woman is dearly loved by the students, who spoke volumes about her kindness towards them. One student said, "She is the perfect person for this. She's just like a friend to all of us."
Another student said that she probably does not know how much the students cared about her and it was necessary to let her know.
Lynn had no idea that the students were planning to surprise her with her favorite meal and other gifts.
The students, wearing the Dude. Be Nice shirts, gathered in the hallway near the cash register where Lynn was working. Everyone was carrying a rose, except one boy. He was dressed in a tuxedo and was responsible for getting her to stop working and sit down with them.
The boy walks up to her and says, "On behalf of the Bishop Monogue Students, we want to thank you for everything you've done for our school and for making us smile every day."
He points her towards a table while the rest of the students, singing Be our Guest, place a white cloth on it.
Each one of the students places a rose in the vases set up on the table and she is served a large platter of BBQ food because it is her favorite food.
At this point, she was smiling and had tears in her eyes. The students begin chanting "We love Lynn" as they gather around her.
A representative of Dude. Be Nice project presents her with a gift – a Southwest gift card so she can fly home to see her ailing mother.
Lynn was surprised and was floored by the special treatment she received that day. The students joined her for the meal and shared kind words about their lunch lady.
The Dude. Be Nice project goes to different high schools as they teach students about the importance of kindness.
Read more on our Twitter account amomama_usa.
Please fill in your e-mail so we can share with you our top stories!