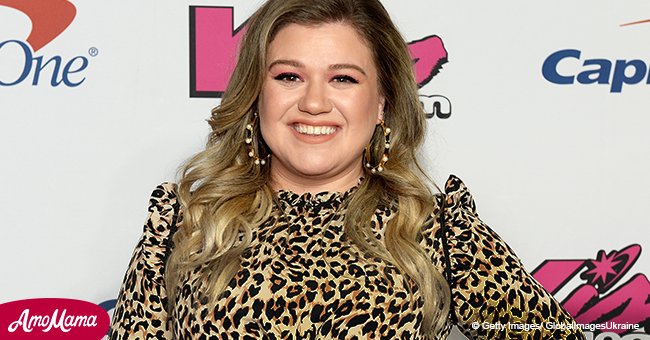 Kelly Clarkson opened up about parenting her kids
The singer spoke out about the important lessons she tries to teach her children, and what she hopes they will focus on in their lives.
Kelly Clarkson spoke to People Magazine about how superficial Hollywood and fame can be, and how she tries to steer her children away from these things.
"This is actual fake news," she said while motioning to her hair and makeup. "I think that sometimes Hollywood can be very 'Oh, we don't want people to see what we really look like. That'll be the death of you or something.' And it's like, 'Whatever!' Everybody poops. Everybody burps. Everybody's the same."
It's very important for Clarkson that her children, Savannah, 17, Seth, 14, River, 3, and Remington, 2, with husband Brandon Blackstock also understand that looks are not the most important part of life.
"I try not to compliment our boys or our girls so much on aesthetics," says Clarkson. "If they look handsome or beautiful, obviously we'll say that, but I'm really adamant about everyone around us always saying like 'God, you're clever. You're smart. You're witty, you're funny … all the other things that make character."
Clarkson recently performed at the opening of the 2018 Department of Defense Warrior Games in Colorado Springs, a sporting event that honors injured veterans, their families, and their caretakers.
The Behind These Hazel Eyes singer says that her children love superheroes, and she was pleased to be able to take them with to the 2017 installment of the event to see real heroes.
"Wounded Warriors [and] Invictus Games[are both] so important. All these things that really shine a light on all these people that have put their life on the line and lost limbs, literally," Clarkson said.
More than 300 athletes competed in the 2018 installment of the multi-day Paralympic style event. This is the ninth year that the Games have been held.
Air Force Veteran Heather Carter told People that for many injured veterans who have lost limbs, it is incredibly difficult mentally to convince themselves to compete.
"The first step for them is that sense of courage to be able to take that step forward," she said.
Carter will also be participating in the Invictus Games later in the year.
Please fill in your e-mail so we can share with you our top stories!