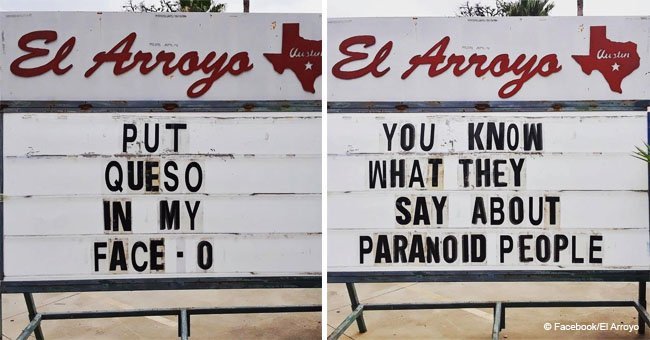 This Mexican restaurant's signs are sure to make you laugh
El Arroyo, a Mexican restaurant, not only makes people happy with their food, but they also make people laugh with their hilarious marquees.
The famous restaurant is located in Austin, Texas. The owners of El Arroyo are fond of putting up humorous signs to brighten everyone's day.
People always tend to slow down when they are driving by the Mexican restaurant. They like having to read a subtle joke that never fails to tickle their bones.
The viewers also like taking pictures of the funny signs, which is how El Arroyo became popular even on social media.
Also, the restaurant has an official Facebook account where they post pictures of the signs after they change them
One of the signs they put up stated, 'One word can change someone's day: Margaritas.'
Social media users take the time to also comment on the restaurant's posts. They try to come up with funny comebacks as well.
Ryan Davis reacted on the restaurants 'Margarita' sign and wrote, 'Works with TACOS too. Tacos could very well be the secret to world peace. Has anyone tried being mad when tacos are around? You are only mad when the tacos are gone.'
Although, there are times when the signs have grammatical errors and people would point out what was wrong with the sentence.
An example of that was this sign that stated, 'I can tell people are judgemental just by looking at them.'
A Facebook user named Amy Poindexter responded, 'See, I'm judging you for putting the extraneous "E" in "JUDGMENTAL."'
'And I'm struggling with being judgmental of an anonymous Mexican food restaurant sign author who incorrectly spells "judgmental,"' added Gary Moates.
Despite the errors, the public still continues to wait for new marquees to be put up by the restaurant. Their signs are just simple ways to make a person's day. For more articles like this, visit our Twitter account, @amomama_usa.
Please fill in your e-mail so we can share with you our top stories!