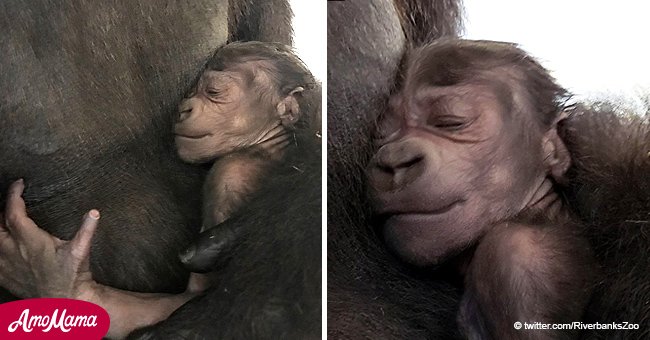 Meet adorable newborn baby gorilla from a zoo in Columbia, South Carolina (photos)
The Riverbanks Zoo made a special announcement on Twitter: a new baby joined their ranks! They shared photos of the western lowland gorilla online.
The baby was born to mother Kazi and father, and both mother and baby are in perfect health. 'Kazi and her infant, dad Cenzoo and the rest of the family troop all are doing well,' the zoo confirmed.
As reported by People, the photos of the baby cuddling Kazi has been shared more than 2,000 times, and it appears as though the infant is smiling while holding on to his mother.
The facility will remain closed for a few days for Kazi and her infant to bond. Their family also includes two other female gorillas. Thus far, the infant is accepted by everyone.
To keep patrons of the zoo informed, a live cam was installed, and netizens can observe the newborn from 4:30 pm until 7:30 pm each evening.
The zoo's administration team also confirmed that Acacia, the mother gorilla's sister, stayed very close to her during labor to guard over her.
'Kazi is being a great mother to her infant, and the family troop continues to do well. Dad Cenzoo and "aunt" Acacia are quite protective of the two.'
According to the zoo, gorilla infants are similar to humans and 'learn to crawl at about two months.' They also start taking their first steps from nine months of age.
Kazi is 12 years old, and Cenzoo is a 22-year-old silverback who joined the Riverbanks family in 2015. Unfortunately, there are only about 100,000 western lowland gorillas in the wild.
The infant is two days old and the first 72 hours after birth is critical, and zoo staff will be monitoring the infant and the troop closely. For more stories like these, follow our Twitter account, AmoMama USA.
Please fill in your e-mail so we can share with you our top stories!