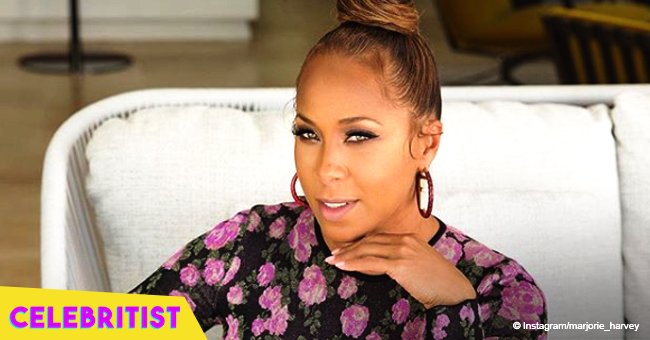 Steve Harvey's wife warms hearts with pic of grandkids after revealing son is expecting 3rd child
Marjorie Harvey, the wife of TV host Steve Harvey, took to her Instagram account to share a photo of three of her grandchildren.
In the post, the 53-year-old woman was seen sitting on the grass with the three children on her lap. All of them were showing big smiles as they were having a great time in what seemed to be an outdoor party.
Marjorie set clear that it had been a good day with her caption, wherein she wrote 'Wednesday fun day.' As soon as she uploaded that photo, her fans and followers took to the comment section to share their thoughts.
Some of them, including Instagram users Beverly Harding-Hoyte and @yniecy, pointed out that Marjorie's grandchildren were beautiful and precious.
Marjorie shared this post more than a month after revealing that her son, Jason, and his wife, Amanda were expecting their third child.
If the news were not surprising enough, she made sure that everybody knew the baby's gender by uploading the video of the gender-revelation surprise her son and daughter-in-law prepared for her.
The video showed Marjorie holding a big, black balloon that read: 'He? She? Pop to see!' Before popping it, however, she said that she thought it would be a boy while looking at Amanda and his grandchildren.
When she finally popped the balloon, small blue pieces of paper came out, setting clear that it would be a boy indeed. After that, Marjorie ran and kissed one of the children and the video stopped.
Jason and Amanda are not newbies when it comes to having children as they are the proud parents of son Noah and daughter Rose, reported Essence. Their new baby, whose name has not revealed yet, will be Steve and Marjorie's fifth grandchild.
So far, Amanda's due date has not been revealed either. All that is left to do is wait for the family to make the big announcement.
Please fill in your e-mail so we can share with you our top stories!