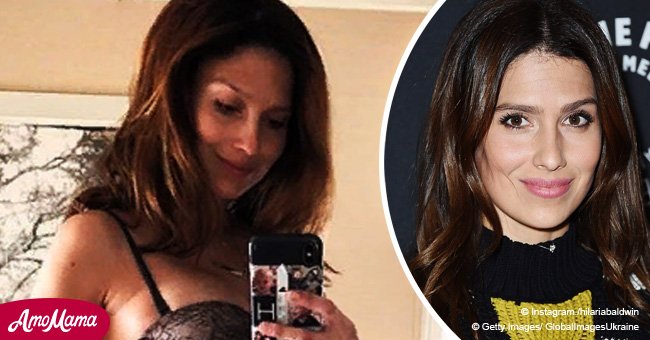 Hilaria Baldwin shows off postpartum body after giving birth to fourth child
When her newest baby with Alec Baldwin was less than two weeks old, the yoga instructor and fitness guru took to Instagram to show how fast she was getting back in shape, sparking divisive opinions from the users.
The 34-year-old posted a 'before and after' set of lingerie pictures that shows her when she was in her 9th month of pregnancy and 12 days after giving birth to baby Romeo on May 17, adding some post-partum body advice as a caption.
But as Pop Culture reported, what Hilaria had to say on women recovering their pre-pregnancy figures raised concerns about the pressure celebrities are projecting on common, 'real', women to bounce back in haste.
'There were so many moments when I didn't want to work out this pregnancy. Showing up is the most difficult challenge. I had to drag myself out and do even a little,' wrote the Spanish-born.
'Consistency helped me so much though...because the body wants attention and wants to be moved. So important for your circulation, your health, your happiness, and for your strength,' she added.
While it is common for women to worry about that extra weight they gained during pregnancy and to expect to return to their usual figure, some people think that celebrity mothers are creating unrealistic and frustrating expectations for women.
Where some people read Hilaria's words as motivational, others saw another celebrity rushing recent mothers to the gym as soon as possible to pursue something that is not as easy for people not as lucky as she is.
'That comment was so self-congratulatory and unhelpful. Birth is hard work, and some people need a lot of time to bounce back,' replied a user who felt uncomfortable with Hilaria's post.
'It is hard and frustrating to make comparisons and while I think Hilaria is wonderful, I don't think anyone needs to look to a celebrity to '"inspire" them,' added the same commenter.
Other users went as far as claiming they were going to stop following the mother-of-four in the social network. 'Unrealistic. Not following you any longer,' simply wrote one user.
'Unfollowing, I genuinely never comment or complain about posts but this post actually hit a nerve,' started another user.
'This post is one of the problems with celebrities and social media. They just add to a woman's pressure to bounce back after birth,' the user continued. '
'I hope you rethink how this post came across and made the woman you are on Instagram to inspire feel,' the person concluded.
But with more than 19.000 'likes' for the post, there were also people who reacted in a more positive way to Hilaria's inspirational note.
'Such beautiful advise. You look amazing!' somebody wrote. Read more on our Twitter account @amomama_usa
Please fill in your e-mail so we can share with you our top stories!