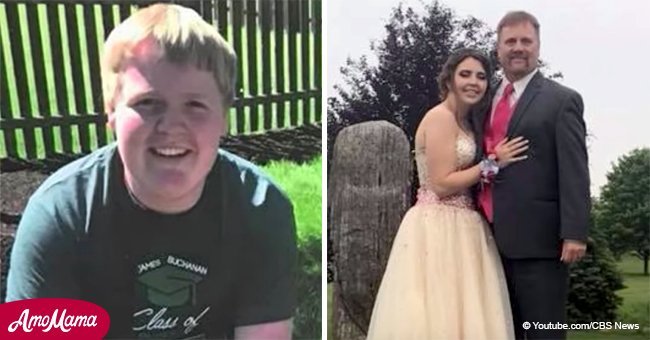 Dad takes late son's girlfriend to prom after he dies in car crash
When her late boyfriend's parents knew she wasn't going to the prom, they were heartbroken and wanted to do something positive.
Kaylee Suder's departed boyfriend's father, Ray Brown, stepped up and offered to take Kaylee to the prom to keep the promise his late son made.
A video uploaded to YouTube showed how Suder lost her best friend and lover, Carter, to a tragic car accident which occurred while he was returning home to surprise her.
Carter fell asleep while driving and met a terrible fate. While Suder was absolutely crushed, his father and mother were also devastated.
Carter and Suder were quite close. They had already made plans for future and Carter promised her that he would take her to the prom. Even Carter's mom, Kelly, and dad knew about it.
So when Kelly overheard Suder saying to a friend that she wouldn't go to the prom, her heart broke. She knew that Suder had already bought a dress for the prom. So, she wanted to do something.
She talked about it with her husband, who quickly came up with an idea. He told his wife that he would gladly escort Suder to the prom if she would agree.
Then Ray made a call to the school's principal to get a permission for escorting Suder. The principal had no problem once he realized the emotional reason behind Ray's request.
Then Rob requested Suder to allow him to take her to the prom instead of his late son. Suder accepted the offer tearfully, overwhelmed by emotions.
As they prepared for the big day, Rob, Kelly, and Suder all got emotional with the realization that they were doing something beautiful to honor Carter's memory.
The event gave all three of them something positive to look forward to, and a beautiful way to honor the memory of the person with whom they were all so deeply attached.
Please fill in your e-mail so we can share with you our top stories!