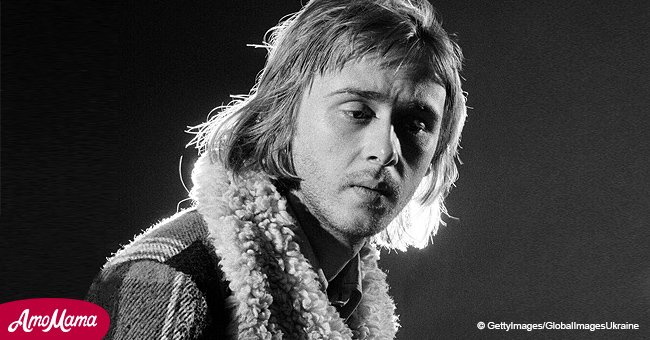 Rock legend Danny Kirwan dies at 68
'Fleetwood Mac' guitarist Danny Kirwan died in London
Daniel Kirwan, 68, a legend for his part in the foundation of the mythical British band Fleetwood Mac died in London on the 8th of June 2018, reported CNN.
Kirwan was musician, guitarist, singer, and songwriter his whole life, but his greatest success was achieved during his sojourn with the blues-rock band Fleetwood Mac from 1968 to 1972.
His exceptional talent as a guitarist was noted by Mick Fleetwood when he was only 17 and playing with the band Boilerhouse. Fleetwood approached Kirwan in 1968 and invited him to join his band, as a third guitarist.
For the next four years, Kirwan was to contribute to the evolving unique sound of Fleetwood Mac, and his music and songs were featured in the band's albums.
Kirwan's sudden demise came as a surprise to his friends and fans, and no official cause of death has been announced.
"Danny's true legacy, in my mind, will forever live on in the music he wrote and played so beautifully as a part of the foundation of Fleetwood Mac."
Mick Fleetwood, Facebook, 9th of June 2018.
Kirwan struggled with alcoholism, and Fleetwood Mac band-members recounted that he would go for several days without eating, subsisting mainly on beer. He became erratic, unreliable and violent, and in 1972 Mick Fleetwood was forced to fire him.
After he left Fleetwood Mac, Kirwan's mental health deteriorated significantly, and he became reluctant to perform, and eventually left the music industry.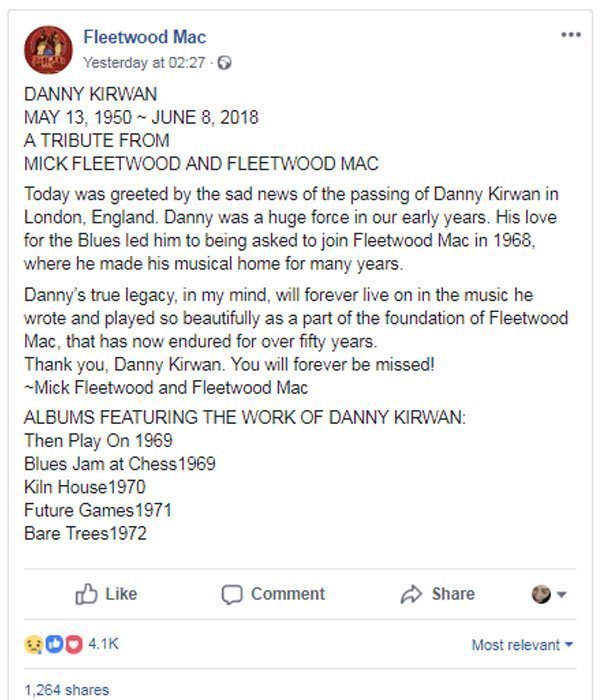 Source: Facebook
He went through a period of homelessness during the 80s and 90s, living in the streets of his native London. Kirwan was inducted into the Rock and Roll Hall of Fame in 1998 for his work as part of Fleetwood Mac, but he did not attend the induction ceremony.
Kirwan's work as musician and songwriter can be heard on Fleetwood Mac's albums Then Play On, Kiln House, Future Games, and Bare Trees.
Mick Fleetwood expressed his grief and regret at Kirwan's passing, and spoke of his incredible talent and the rich musical legacy he is leaving behind.
Read more about Danny Kirwan and Fleetwood Mac on our Twitter account @amomama_usa.
Please fill in your e-mail so we can share with you our top stories!