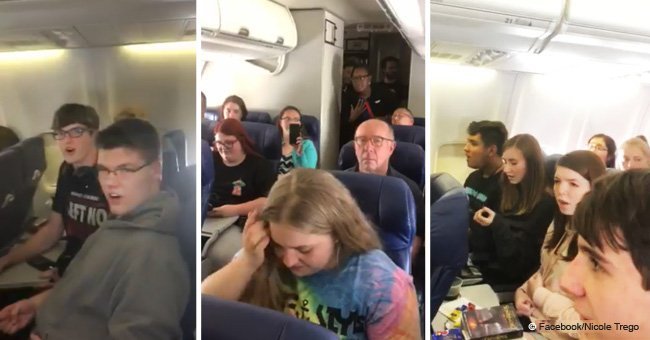 Passengers unexpectedly break out singing 'Hallelujah' during a flight
A group of students from Illinois sang Hallelujah while waiting to get off the plane.
Nicole Trego took to Facebook recently to share an amazing experience after her flight lands on the tarmac.
"We've landed and this happened while we were on the plane," she wrote.
Nicole was one of the passengers who recorded the students from Monmouth-Roseville High School's choir as they began singing Leonard Cohen's classic song Hallelujah.
In the video, the airline worker can be seen peeking around the corner from the galley in the back of the plane to see what's happening.
Blending to create a wonderful harmony, the girls chimed in with the boys
The passengers at the front of the plane turn around to understand what was occurring toward the back of the plane.
Though someone directs the students with his hands, they don't seem to need any guidance as they deliver this incredible live performance.
Their breathtaking rendition appears to be a great way for the passengers to pass the time while waiting to leave the plane.
Nicole explained in her Facebook post that she uploaded the video after they landed because she didn't pay for the WIFI while on the flight and had no way to upload while flying.
She added: "I am not passing this off as a live feed, I am simply saying (for the parents of the students on board) that we have landed, and the posted the video of the kids singing while in flight. As this has been confusing for some, I wanted to make sure to clarify."
Posted about a month ago, the video went viral, with 1.1 million views and more than 16,000 Facebook users sharing it with their friends and family. It has also been liked more than 6,000 times.
A lot of netizens also placed their thoughts via comments.
Cheryl Chandler Forsythe wrote: "I love it! Anyone that is annoyed by that should have headphones or earplugs! What a great flight that must have been!!!"
"Great bunch of young beautiful people," commented Dan Flores.
Please fill in your e-mail so we can share with you our top stories!