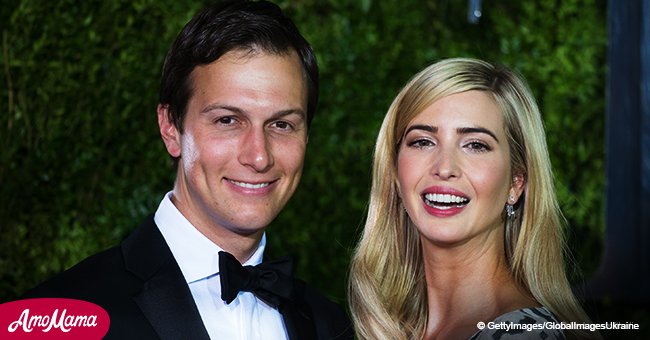 Ivanka Trump and Jared Kushner take photo with Stanley Cup champions
Ivanka Trump and her husband Jared Kushner were out for an evening on the town when they met the Washington Capitals ice hockey team.
The couple was dining at Café Milano in Georgetown, a neighborhood in Washington when Philip Pritchard, the Hockey's Hall of Fame Keeper Of The Cup spotted the famous couple.
The chance meeting was also recorded and shared by Zach Hanover, the Vice President at Outlaw Media LLC, who was also dining at Café Milano.
'I am eating at the bar at Cafe Milano, and the Champion Caps and Javanka are here top that.'
Zach Hanover, Twitter, June 10, 2018.
In the video clip, the champions can be seen shaking Ivanka's hand and generally having a good time. The champions then invited Ivanka and Jared to a private dining room.
It was here that Pritchard and the team posed for a few photos with the couple. The images were later shared to his Twitter account, and he captioned it: 'Hanging out in Georgetown with Ivanka.'
In the photo, Captain Alex Ovechkin can be seen holding the cup. Ivanka standing next to him, grinning from ear to ear.
Ovechkin has been team captain for eight years now. Before being selected for the Washington Capitals in 2004, he played for HC Dynamo Moscow.
The Capitals won the Stanley Cup in May 2018, a first-time win in their 44-year history. Not all their fans were excited about their evening out with Ivanka and Jared.
A user known only as Bobby X said it's 'not a good look for the NHL if she [Ivanka] gets indicted' while Reg Curren said it 'may be the worst thing that ever happened to the Stanley Cup.'
John R Johnson said it was a good way 'to ruin a perfectly good trophy,' and David Simpson said she takes after her father when it comes to 'photo ops and free publicity.'
He added: 'Too bad they don't care as much about the environment or dreamers or old retired people.' For more news, please follow our Twitter account, AmoMama USA.
Please fill in your e-mail so we can share with you our top stories!