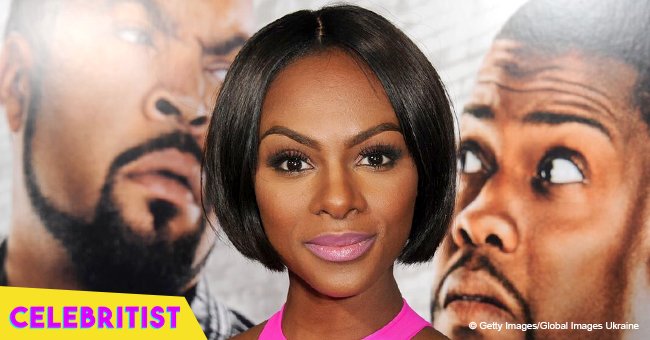 Tika Sumpter reveals her little daughter's face in throwback photo with fiancé
The beautiful Tika Sumpter has been keeping the identity of her daughter away from the public for almost two years, but now she decided to reveal the face of the little girl. In an adorable photo that Tika shared for Mother's Day, her fiancé and their daughter stare at each other lovingly.
"The Haves & Have Nots" star, Tika Sumpter, is known for keeping her private life away from the cameras. But it seems like the actress is slowly starting to open up to her fans on social media by sharing more and more about her little but gorgeous family.
She kept her pregnancy secret until she gave birth, and even then she wouldn't reveal her baby's daddy identity. However, after months of keeping the mystery, we could finally put a name and face to Tika's man. It turned out to be her fellow co-star Nicholas James, whom she met in the set of the OWN's series.
However, the couple worked together to keep Ella-Loren, who will be turning 2 this year, away from the spotlight, only sharing strategic shots of the little girl where her face was not facing the camera.
Sumpter seems to have had a change of heart recently, and she decided to finally share a beautiful picture of her baby girl that had fans' hearts melting. In the photo, little Ella is playing with her dad as they stare at each other with smiles on their faces. The girl looks like the perfect mix between her dazzling parents, and fans filled her with compliments.
Tika took the opportunity to share a heartfelt message in her Instagram caption, writing:
"Hello, world. Baby Ella-Loren at 6 months. You're almost 2 now. You changed my life in every way. Carrying you was magical, but delivering you was complicated. I had pre-eclampsia and was told I could seizure or bleed out. I cry thinking about it. You are my miracle. You are my magic. @nickjames138 thank you. #mothersday #ellaloren #helloworld"
Tika and Nicholas got engaged in December, and she couldn't be happier about sharing her life with him, as she gushed about the handsome actor with the ladies of "The Real" a few months ago, saying:
"I love my fiancé Nicholas so much. He's a great dad, I mean, Ella loves him. As soon as he comes in the room she lights up. He's just a really great dad, he's there. He's very present."
Nicholas and Tika make a gorgeous couple, and they seem to be really happy raising their little girl while preparing for their wedding ceremony. We can't wait to see them get married pretty soon.
Please fill in your e-mail so we can share with you our top stories!