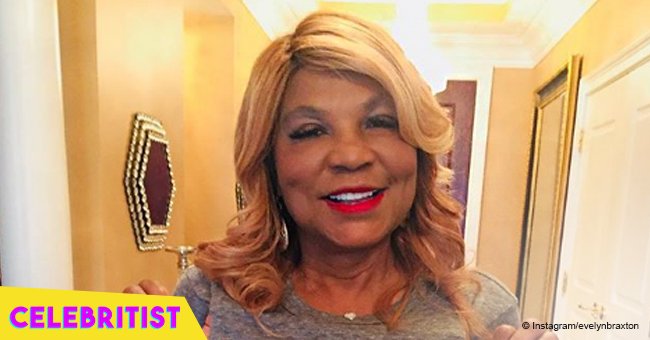 Evelyn Braxton shows off her figure in black jumpsuit after recently becoming great-grandmother
Evelyn Braxton is the matriarch of one of the most iconic families in the entertainment industry, the Braxtons. At 70-years-old, the mother of six is still looking as beautiful as ever, and one of her famous daughters recently shared a photo hyping her up on social media.
Traci Braxton is her mother's number one fan, and she recently shared a photo of Mrs. Evelyn looking stunning in a black jumpsuit with sparkling details as she cheered for her in the caption of the Instagram post, where she wrote:
"Ohhhhhh @evelynbraxton Mommie don't hurt'em Girl!!!!!! Show the people what a matriarch looks like!!!!! YEEEESSS HUUUNNNTTTYYY!!!"
Fans left comments praising Evelyn for looking so young and lively, and some mentioned that for having six kids and being a great-grandmother already, time seems to have stopped for her.
Last month, Traci's son, Kevin Surratt Jr., had his first child, and even though the whole family was surprised at first because of how young he and his girlfriend Olivia are, the Braxtons welcomed the adorable baby with open arms once they got over the initial shock.
Speaking to the Grio before the baby was born, Traci explained how excited she was for giving her family the first ever great-grandchild, and also revealed that she doesn't want to be called "grandmother," instead, she'll have a royalty title:
"Kevin Jr. made me a duchess and I'm ecstatic because now my parents, my sisters, and my brother…my grand-baby is making them the first generation of a great-grandchild. My sisters and I…when we were younger, we said if we ever have kids, and our kids have kids, our names would be Duchess. That's royalty, that's what they call the Queens when they have grandkids. So, I'm royalty."
Traci shared a beautiful photo of her adorable grandson after his birth, and she thanked her son and his girlfriend for giving her such an incredible Mother's Day gift, saying:
"This is by far the best Mother's Day present. I wish I could describe how amazing It feels to be a Duchess! So thankful for @sirkevinjr and @oliviahaaron for bringing this special gift into our family. The future has never looked so bright. @sirratt23 and I are so happy to call you our grandbaby."
There's no doubt that the Braxtons have incredible genes because all of the women in the family look at least 20 years younger than their real ages. We're glad to know that Traci is enjoying being a "Duchess" and we're sure Evelyn is just as excited about the baby as her daughter.
Please fill in your e-mail so we can share with you our top stories!