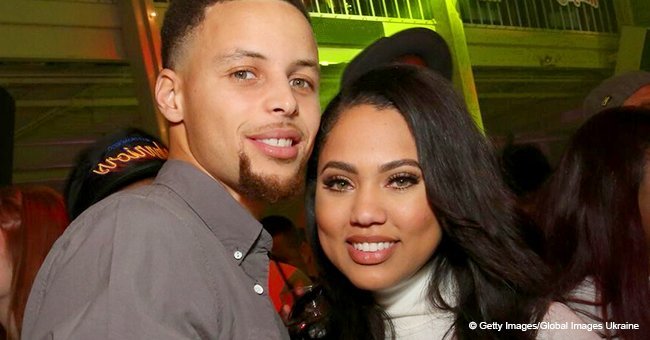 Steph Curry's wife flaunts growing baby bump in black swimsuit
The pregnant basketball wife spends a relaxing weekend with her husband and features her bare belly just a month shy of her due date.
She's due to give birth in a month but that's not keeping Ayesha Curry from flaunting her body in a bikini.
Fresh from her husband Steph Curry's third NBA championship win in four years, the 29-year-old celebrity cook is kicking back and enjoying a relaxing vacation with the 30-year-old Warrior for a pre-baby honeymoon. Sharing a photo from their holiday in her Instagram stories, she draws attention to her massive baby bump as she rocks a black bikini. The beautiful wife labeled the pic "homestretch" referring to her final weeks before popping out another child
It's been busy for Ayesha the past few months supporting her husband on the road throughout the playoffs. She even traveled to Houston during the Western Conference finals and encountered an aggressive Rockets fan who poked and shoved her pregnant belly. During the finals, she also joined her husband in Cleveland as he secured their win.
The couple who've been married for seven years are already parents to daughters Riley, 5 and Ryan, 2. It's unclear whether their unborn child is a boy or a girl but fans are wishing they'd have a son this time to pass on Steph's family's legacy in basketball. His father Dell Curry devoted sixteen years of his life in the NBA and made sure Steph inherited the same dedication and work ethic since he was a little boy. Now that the Golden State player is a two-time league MVP with three championships under his belt, it would be nice to have the tradition passed on.
But as much as her husband is a busy and accomplished sportsman, Ayesha revealed he is a hands-on father. She told ABC News the ball player "manages his life and his day with so much humility" and that she's one lucky wife to have him.
As for Ayesha, Steph opened up about his supportive wife who manages to be by his side in all his games while tending to their two children.
"I am blessed with a wife that's willing to travel with me. I don't know what I'd do if she wasn't able to be there with me to go to different events. I mean, I have a two-month-old daughter and she's been on 10 flights already … It's a lot to manage, and we are still learning as young parents."
Please fill in your e-mail so we can share with you our top stories!