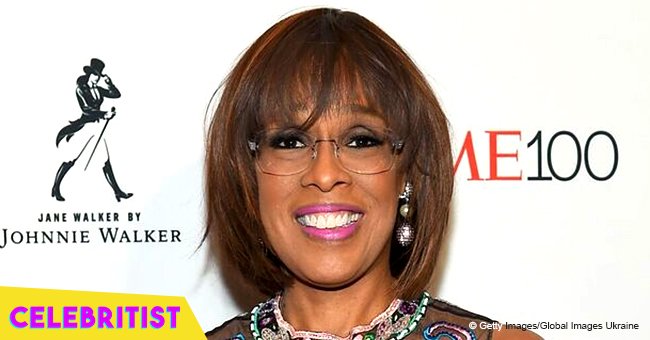 Gayle King stuns in striped dress in recent picture with grown-up son
The television personality was having a fast-paced weekend adventure and she made sure she shared it with her followers while challenging them with a question of who had a rocking weekend more, she or her best friend Oprah.
Gayle king stunned in a skintight red and white striped dress when she posted photos of her weekend spent with her only son William Bumpus Jr. while watching the Formula 1 race at the Canadian Grand Prix in Montreal. Oprah's best friend was joined by singer Ciara and her husband Russell Wilson in cheering for Lewis Hamilton as she indicated in her caption. Posing a challenge to her fans, she also posted photos of her daughter Kirby Bumpus simultaneously spending a relaxing weekend with Oprah. The two were photographed cooking and lounging with food and drinks in contrast to Gayle's more action packed day.
Gayle and Oprah have been friends for over 40 years raising the idea of "BFF" to a higher level. The ladies first met in 1976 while working at a Baltimore TV station where Oprah was a news anchor and Gayle a production assistant. On a stormy night, the two bonded when then 22-year-old Oprah invited her then 21-year-old friend to stay with her at home. King recalled the story to Huffington Post in 2015 and added,
"When I said I didn't have any clothes with me, she said 'you can wear mine,' and when I said I didn't have any underwear she said, 'you can borrow mine, it's clean!"
The following day, they went shopping for clothes with Oprah spending $19.99 on two-for-one sweaters for Gayle.
Looking back, Gayle believed it was their likeness that led them to forge a lasting friendship.
"We became friends that first night because for the first time, I met somebody who I felt was like me."
Since then, the lifelong friends have remained close despite establishing their own careers and romances that came and went. They've weathered cheating scandals and weight struggles. They admittedly talk on the phone three to four times a day. Oprah is also the godmother of Gayle's two children with ex-husband William Bumpus.
It came to a point they were so close that they were even rumored to be a couple. Of course, the two simply laughed it off with Oprah finding a perfect explanation for it. In 2006, she told O Magazine,
"I understand why people think we're gay. There isn't a definition in our culture for this kind of bond between women. So I get why people have to label it—how can you be this close without it being sexual? How else can you explain a level of intimacy where someone always loves you, always respects you, admires you?"
"Wants the best for you," Gayle added and Oprah continued,
"Wants the best for you in every single situation of your life. Lifts you up. Supports you. Always! That's an incredibly rare thing between even the closest of friends."
Oprah and Gayle are clearly the epitome of friendship goals.
Please fill in your e-mail so we can share with you our top stories!