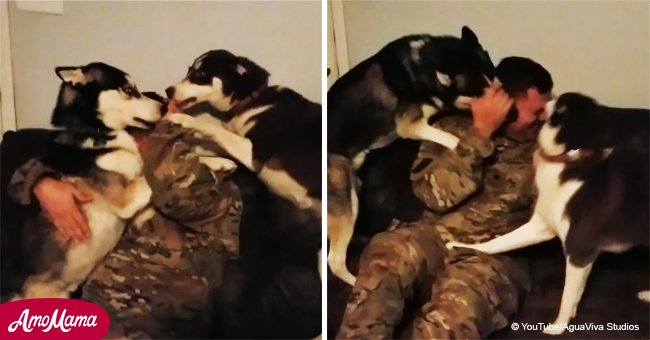 Huskies go berserk when their soldier owner returns home from duty
This is the adorable moment when two huskies are reunited with his owner, a soldier returning home from duty.
There are very few things as touching as a faithful dog being reunited with its owner, but when the owner happens to be a soldier who has spent the past several months stationed overseas, sobbing is all but expected.
As you can see in the Youtube video, both dogs are overwhelmed with emotion when they saw their beloved owner arrive home after a long time.
The video seems to have been taken by the soldier's Hispanic wife, as she can be heard talking to the dogs in Spanish. The soldier sits on a couch placed at the side of the front door while the dogs try to give him dog kisses all over his face.
The dogs run around the room and throw themselves against his owner's chest time and time again. His owner tries to get them to settle down so that they can have a proper, peaceful reunion, but they are too excited.
The Huskies can´t stop licking his face and jumping on him. You can see that it means a lot to this Soldier after being deployed for a long time. It's also obvious that it means a lot to his dogs. They are really happy to have dad home.
There's nothing quite like having your dogs greet you at the door when you come home. Especially after you've been gone a while. It just never gets old. Read more on our Twitter account @amomama_usa.
The intense connection between these soldiers and the dogs who loyally awaited their safe return it's unmistakable. We salute our brave members of the Air Force, Navy, Marines, Army, and National Guard, and their canine companions.
It's always so touching to see just how much dogs miss their owners when their away for long periods of time. These videos make anyone tear up every time, in a good way, of course! If this put a smile on your face, make sure to share.
Please fill in your e-mail so we can share with you our top stories!