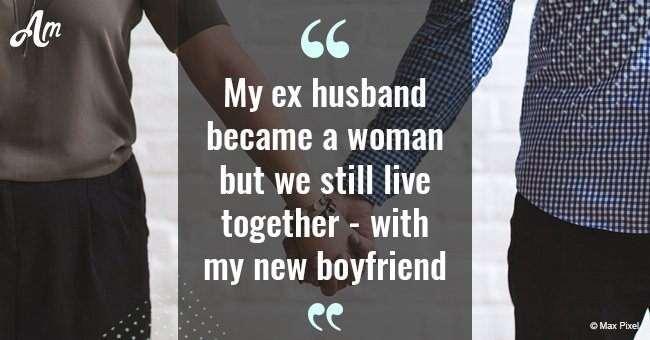 My ex husband became a woman but we still live together - with my new boyfriend
I'm caught in a very complicated situation, and I have to decide between an old loyalty and a new love.
I married my high school sweetheart and my best friend, 'Tom,' 25 years ago. We were young and in love and very happy. We started working and building our careers, and 4 years later we had our first child, a boy; and two years after that our daughter was born.
Then 'Tom' started becoming morose, and soon manifested signs of deep depression, I convinced him to go to therapy and six months later he dropped a bombshell on me: 'Tom' wanted to be a woman.
I now discovered that for years he'd been sneaking into my clothes when I was out and that he had decided to finally assume his true gender identity.
I couldn't believe it. I loved him, and I know he loved me, I didn't want a divorce. I didn't want to live without him, so when he started transgendering I supported him. Little by little the man I loved disappeared, and a woman called 'Sarah' came into my life. While 'Tom' had been depressive and pessimistic, 'Sarah' was upbeat and happy. 'Tom' had always been an introvert, but 'Sarah' was exuberant and made friends everywhere she went.
'Sarah' became my best friend, and a part of my life. After 'Sarah' underwent gender reassignment surgery, we divorced, but we continued living in the same house. I had the guest suit by the pool transformed into a bachelorette pad so she could have her privacy and entertain her friends, but still be with me and the children on a daily basis.
A year later 'Sarah' started nagging me to 'get out there' and meet someone. I met a man online and we started chatting, we became friends, and decided to meet.
He is a wonderful man, strong, loving and kind - and he helped me overcome my insecurity about my attractiveness that had been a natural result of 'Tom's' decision to become a woman. Our relationship developed and we both felt that we'd found our soul mates.
I introduced him to the children, and then to 'Sarah.' He wanted me to move in with him, but I suggested HE move into my much larger house.
At first, it was OK, but soon my new love became upset at having 'Sarah' traipsing in and out of the house day and night. He started to say we had no privacy, and that he wasn't comfortable having her around all the time.
He says we will never have a chance to build a strong bond with the children, become a new family, with my ex-husband living in the house.
I'm now pregnant, and my boyfriend has asked me to tell 'Sarah' to move out. I don't know what to do. I can't hurt the woman who was once the father of my two children, but I don't want to lose the father of my unborn child.
I don't know what to do, I'm torn apart, and making this decision - whichever way it goes - will break my heart. I need some sensible, impartial advice, please!
If you need help or advice, reach out to us, and thousands of women just like you who are struggling with the difficulties of life. You are not alone, we are here for you, and we listen; so write to us anonymously using this form.
Please fill in your e-mail so we can share with you our top stories!