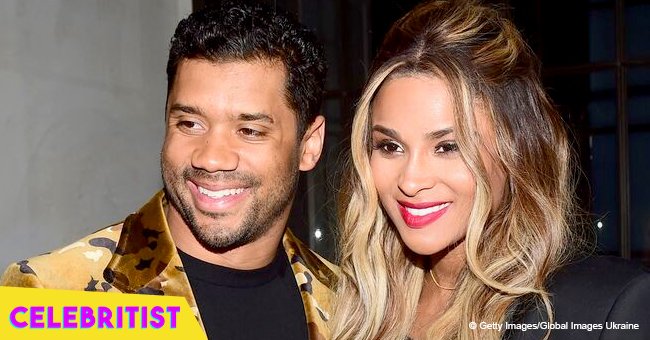 Ciara stuns in black maxi dress with slit, posing next to husband in recent photo
Ciara, ever the stylish and carefree celebrity shared a photo of her family on a typical day. The entire family is on it and they look happy and content in each other's presence. It wouldn't be a typical family picture without some silly gesture, would it?
As Celebritist reported, 32-year-old Ciara shared a family photo to wish the Instagram family a happy Saturday. Everyone – the singer, her husband Russell Wilson, and two children – gathered together for this cute family moment that fans loved. Even cuter is little Princess Siena sticking her tongue out in solidarity with the rest of the family. "Happy Saturday Everyone. #Family," was Ciara's caption.
The cute bug did not escape fans' notice and instantly compliments started coming through;
"Omg even the little one! This is so cute!"
"@ciara baby girl is killing me."
Ciara is now a mother of two children – Future Jr. and Siena Wilson. Even though Future is not her husband's biological son, the two have a close bond. The couple welcomed its first child together a year ago, and Ciara expressed her initial concerns to E! News.
"I didn't know what to expect and I'm such a tomboy that I was honestly kind of a little worried or curious about how I would do with a little girl."
However, she got the drift soon after her Princess was born. "There's something really sweet about how they are," she said. "They're so delicate but she's so tough at the same time. So that's been really amazing to see and experience—it is a difference you know. It's hard to describe, but you feel it. It's been really fun."
As for Wilson, being a dad is "the greatest blessing in the world" as he told E! Having a family changed the way the football pro looks at the game. "More than anything, when you have your own family and it continues to grow, it's a special thing. I don't just play for my family that I've had before, but also my new family. Just playing for the little ones, playing for Ciara too and playing for my teammates and trying to do everything that I can to be the best that I possibly can be. I'm truly grateful every day to get to come home and it puts a smile on my face every time."
So, how is Wilson as a parent? "He's so loving and very patient," said Ciara.
Please fill in your e-mail so we can share with you our top stories!