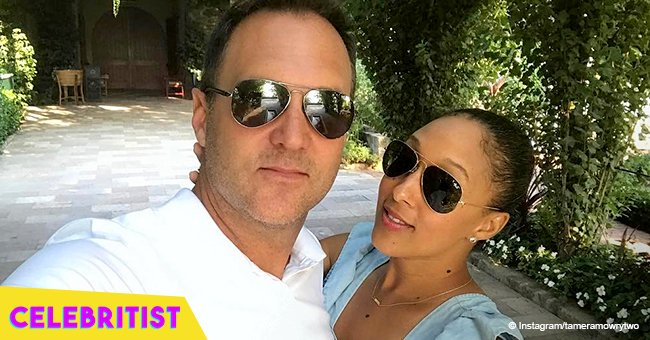 Tamera Mowry's husband melts hearts with photo of their son 'dressing his dinosaur for bed'
Tamera Mowry's son, Aden, wore his first graduation gown and his proud momma could not hide her excitement at the achievement of this milestone. While sharing the photo with her Instagram family, the mother of two admitted to getting emotional at the sight of her Aden in a gown. While mom had her eyes on the gown, dad decided to focus on Aden's love for his dinosaur.
Tamera is a softie and so when sharing a photo of her son on graduation day, she admitted to shedding tears. Aden, who is Tamera's first born with husband Adam Housley graduated from pre-kindergarten and the parents couldn't be prouder. It is noted that he – Aden had taken a break from a far more important activity – dressing his dinosaur for bed – to take part in the school ritual.
Aden looked cute in his blue gown and he wore his favorite accessory – that signature smile. Both parents captured this moment on their social pages with Tamera captioning:
"So proud of this kid. Yes, I cried! You've come so far my man. He finally made it on stage and sang a couple of songs."
The couple shared several other moments from the day and made it really special for their son.
As Celebritist reported a few weeks ago, Tamera shared with her colleagues on The Real that her son was already protective of his new cousin, Tia Mowry's baby girl. When he – Aden – and his sister Ariah accompanied their mom to the hospital to meet the newborn, Aden stood by the little angel's bed while she napped and reminded the adults to keep their catch-up down lest they woke up sleeping beauty. Adam has shared photos of Ariah and Aden holding hands and expressed his joy at seeing his children being so close to each other.
Speaking of sharing moments, Aden loves his dinosaur so much that he doesn't deem it fair to let Mr. to go bed without his pajamas. Adam captured this sweet moment of his boy dressing his pet, an image that showed his compassion even at his age.
Sweet as these moments are, Tamera is done having kids. "Usually, this is the time when you think about having another child, but I'm done. Done, done, done, done … done, done. I love it."
Please fill in your e-mail so we can share with you our top stories!