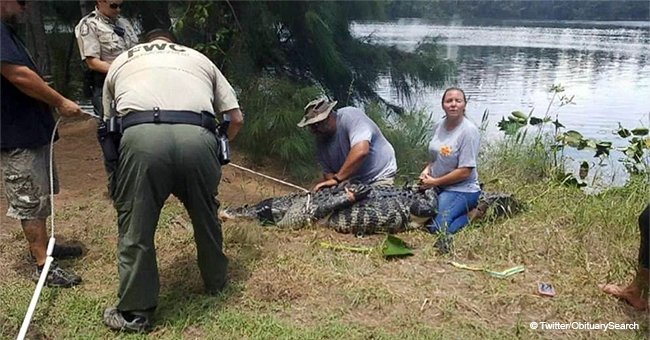 Florida woman killed by alligator while walking her dogs
Shizuka Matsuki was killed by an alligator in Florida while walking her dogs. Her arm was discovered inside its stomach.
As reported by USA Today, Matsuki, 47, was walking her dogs when a 12-foot-long alligator attacked and killed her in Davie, Florida recently.
According to the report published by Florida Sun-Sentinel, an onlooker told authorities that he witnessed Matsuki walking her dogs. Then, he heard the dogs barking near the water and that was the last time he saw Matsuki again.
Davie Police Maj. Dale Engle told the paper: "Her dogs won't leave the pond. One of her dogs got bit by the gator."
After the development, the authorities decided to close the park
USA Today reported that a local woman named Heather Porrata said: "Any body of water in Florida, you've got to know at some point or another there's an alligator."
When the authorities caught the alligator, there was an arm inside its stomach. The arm's tattoo matched the one that Matsuki had, Fox News reported.
Florida Fish and Wildlife Conservation Commission stated it will be "conducting a thorough investigation into this incident," adding, "We would like to extend our heartfelt condolences to the family and friends of Shizuka Matsuki. Search teams located the body of Ms. Matsuki June 8 at the Silver Lakes Rotary Nature Park lake in Davie."
Matsuki's neighbor, Peter Limia, said that she went to the park on a regular basis.
"It's not uncommon for her to go there. It's such a sad story, I can't even process it…something like this is so freakish," he said.
In an interview with WSVN, the man who identified himself as a friend of the family said Matsuki's husband was in Chicago when the tragic incident took place.
The friend added that he even warned Matsuki to stay away from the lake area due to the presence of alligators.
"There are plenty of gators in this lake. I'm out here all the time with my kids and my husband. You can see them. They're at least [8-foot], 9-foot alligators," Patricia Ramsaran said, according to Fox News.
Please fill in your e-mail so we can share with you our top stories!