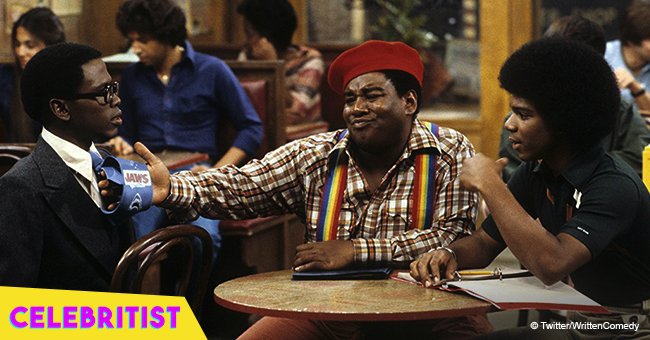 Remember Raj Thomas from 'What's Happening!!'? He looks great at 69 & shared photo with his mom
The cast of the show "What's Happening" may have looked perfectly normal to us when they were on screen, but it seems there were feuding behind the scenes. Years later, some of the members are still salty over what they consider a betrayal by one of them.
Remember Ernest Lee Thomas a.k.a. "Raj?" He attended the burial of one of the cast members who died years ago, and that did not sit well with a few of his colleagues. The main cast was made of Thomas who played "Raj," Haywood Nelson ("Dwayne") and Berry ("Rerun"), as well as Daniel Spencer ("Dee") and Mabel King ("Mama"). They were great friends off-the-set too but it turns out they didn't always agree with Rerun. He was a bit antsy and caused trouble a lot, and some of the members feel he ruined the good deal they had at the "What's Happening" show.
Trouble started when Berry found out that he was earning 3,000 less (per episode) than his Caucasian counterparts.
Director Alan Rafkin said in his book, "Cue the Bunny" recounted the events that led to the cancellation of the show.
"'Rerun' convinced 'Raj' to join him in a walkout in order to negotiate higher salaries. The network gave them a little raise and the guys became one big happy family again…but not for long. Some time around the third season, the guys pulled another stunt of demands and the network pulled their own stunt and cancelled the series. Eventually, the producers simply had enough of the boys' antics and they closed the series down."
But Earnest (Raj), gave a different account. "There's a mystery over that… I remember distinctly that they had a meeting and wanted the entire cast to meet with all of the producers. And they said, 'Fred Berry tells us that you think we're racist. So we don't want you working for racists and we're going to cancel the show.' That's what I remember… Fred was very happy, even at that meeting. He didn't take it back and say, 'No, they really didn't say it, I was the one who said it.' He said, 'No, you know you all said it!' So they thought he really was telling the truth."
"What's Happening's" last episode aired in 1979, but the success of the Cosby Show led to its recall and Berry was cast afresh. He later apologized to his colleagues for the trouble that caused the cancelation of the original show, but it seems some of them held a grudge till his death.
Please fill in your e-mail so we can share with you our top stories!