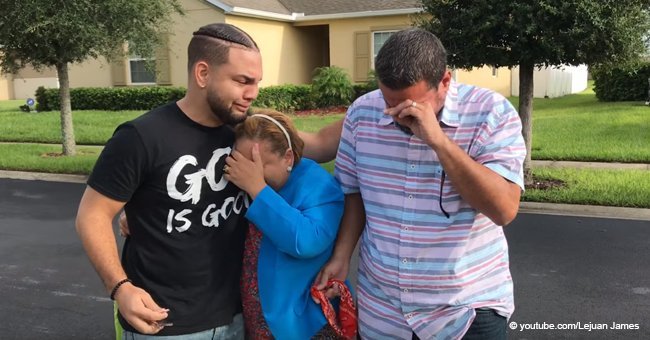 Parents driven to tears when son reveals thank-you gift to them
The video captures the reaction of LeJuan James' parents when he surprises them by buying a home as a thank-you gift.
James uploaded the video on his channel on YouTube on August 1, 2017.
He shot to fame with his comical videos on social media. The popular YouTuber decided to use his own money to buy a home to express his gratitude to them.
James said he owes everything to his parents, who have been married for more than three decades.
He revealed that his parents sacrificed everything in their lives just to make sure their children were happy. They put in many years of hard work and they received the ultimate gift from their son.
His parents worked two jobs to make ends meet when they moved to the United States. James' mother was a housekeeper at Disney and even had a job as a cashier at Walgreens overnight.
His father worked in maintenance and as a cashier at Burger King during the night
According to James, both his parents worked very hard to provide for their children. He may not have told his parents often, but he is grateful for their sacrifices.
James is now well-off and decided to fulfill his childhood dream. Ever since he was a young boy, he had dreamed of gifting his parents a home. After years of hard work, the day finally arrived.
The video begins with the man talking about the sacrifices his parents made for him and his siblings. He then blindfolds his parents and drives them to a neighborhood.
His parents are both confused when he grabs them by their hands and leads them to their new home, while they are still blindfolded.
When they finally arrive at their home, he asks them to take off their blindfold. When they do, they realize what they are looking at and their eyes fill with tears at the unbelievable sight before them.
It is an emotional moment for the family, one which they will not forget for the rest of their lives. Even James cannot fight his tears as his hugs his parents.
Read more on our Twitter account @amomama_usa.
Please fill in your e-mail so we can share with you our top stories!