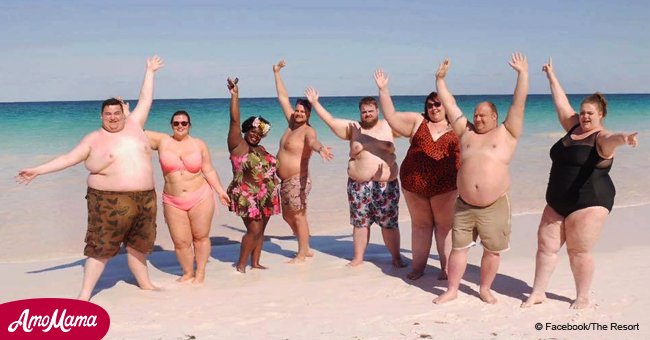 Luxury Bahamas resort designed especially for plus-sized travelers
Plus-sized travelers do not have to fear to be fat-shamed as entrepreneur James King welcomes them to The Resort.
The all-inclusive hotel is located on Eleuthera/Harbour Island in the Bahamas.
Spending holidays under the sun is supposed to be a time to rest. However, some people also experience the anxiety of wearing a swimsuit or being fat-shamed at the breakfast buffet.
Some experiences can ruin a vacation. The Resort is just for overweight and obese people who want to feel 'normal.'
The luxury property by James King caters to a specific set of people and is located in the Bahamas.
Speaking to People, King said he came up with the idea when he noticed something. He saw full-figured people getting into humiliating situations at hotels.
When he was working at a resort in Grenada, he saw a young woman sit down in one of the loungers and went right through it. Everybody around the beach started laughing at her.
When he was in his office the very next day, he heard screaming and found out it was the same woman. The owner of the hotel had asked her to pay $150 for the destruction of the property.
King did not agree with the police and urged the owners to change the plastic flimsy furniture, but, they did not care. That is when he decided he really had to do something.
The entrepreneur made sure that problems did not exist for plus-sized travelers with reinforced furniture and extra-wide doors. The sun loungers can hold up to 560 pounds.
A guest, a 375-pound woman from Texas, told New York Post, "Being able to feel 'normal,' even for a little while, was beyond a gift. Can you imagine how it feels to walk down a beach and hear people refer to you as a beached whale?"
The woman sported a swimsuit with any fear of being ridiculed. She added that a life of a plus-sized person in a "judgmental world is stressful."
The Resort is located on five miles of private land and offers three buffet meals a day. However, one has to keep in mind that it is not easy on the pocket.
A six-day stay for a group of 24 people comes out to be $16,400 or $684 a person. The luxury destination only takes group reservations and the maximum limit is 24.
It has turned out to be a successful venture for King who is now on the lookout for a second location.
Read more on our Twitter account @amomama_usa.
Please fill in your e-mail so we can share with you our top stories!