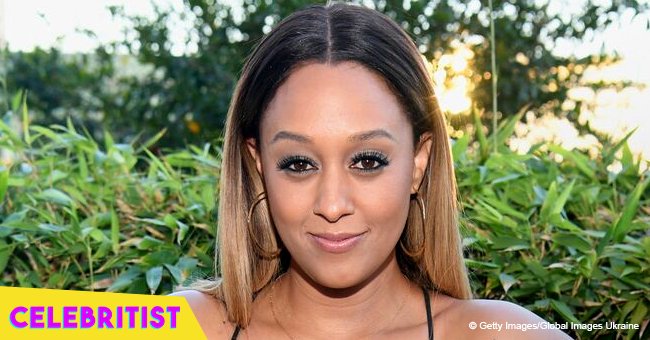 Tia Mowry shares throwback photo of her white father who served in the army
Tia and Tamera Mowry are all about family, and that comes from the way they were raised. Their parents, a biracial marriage, served in the military when they were young, and Tia recently paid tribute to them and all the men and women who have protected the country with a sweet Instagram post.
She just gave birth to her second child, a girl, but Tia is known for being aware of everything that goes in the country and always speaking up about important issues. So, as part of Memorial Day, the 39-years-old actress shared a special photo featuring her beautiful parents.
Timothy and Darlene Mowry met in high school. She, an Afro-Bahamian descent, and he a Caucasian with Irish ancestry. They defied society's prejudices, not only by getting romantically involved but also by joining the U.S Army together, eventually reaching the sergeant rank.
They are the parents of four talented children: Tia and Tamera, Tahj, and Tavior. Even though they traveled a lot when the twins were little, they eventually moved to California, where three of the four kids started their careers in Hollywood with Darlene working as their manager.
Remembering her parents' hard work and bravery, Tia recently shared a throwback photo of them in their army uniforms and shaking hands with other officers next to the American flag. She wrote in her Instagram caption:
"We honor those today who have fallen. Both my parents served in the #army. My dad, on the right, trained many that went to war. The #gulfwar to be exact. It's important we never forget their strength and bravery and those who have died to protect our country. #memorial #day"
The fans' immediately started to point out the resemblance they have with their mother while stating that their brother Tahj, known for his role in "Smart Guy," looks a lot like their father.
Tia knows the importance of family, and now that she gave birth to her second daughter with husband Cory Hardrict, she's instilling those same values into their seven-year-old son, Cree.
The family has been enjoying the arrival of the new baby with glee, and even though Tia still hasn't revealed the girl's name, she has been sharing adorable photos of Cory and Cree with the little bundle of joy.
We have yet to see photos of the proud grandparents with the girl, but we're sure every single member in the family is delighted by the addition to the Mowry clan.
Please fill in your e-mail so we can share with you our top stories!