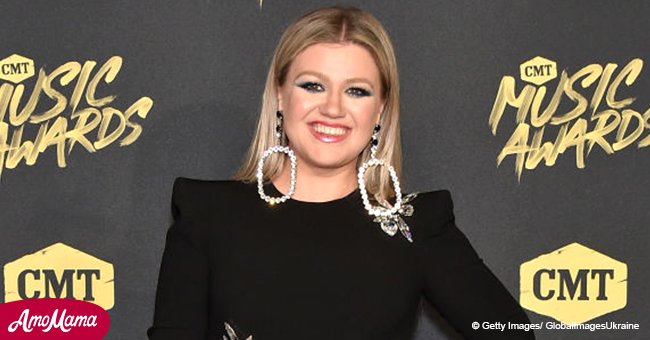 Kelly Clarkson shares sweet birthday photo of daughter River Rose
Kelly Clarkson's oldest daughter turned 4 years old on June 12, and to celebrate it, she shared an adorable photo of the child wearing a cowboy hat and smiling for the camera.
The little girl is starting to look more and more like her mother as many of the followers of the singer and coach on The Voice noticed and commented. The photo got more than 130.000 likes in a single day.
'Happy Birthday to this little cowgirl! She's 4 y'all!!! That's crazy,' Clarkson shared with her 3.5 million Instagram followers, amazed at how fast these years have passed for her.
As Inquisitr reported, River Rose is the oldest of Clarkson's two children with her husband Brandon Blackstock. They also share a 2-year-old, Remington.
Clarkson is the stepmother of 16-year-old Savannah and 11-year-old Seth, Backstock's children from a previous relationship.
The 'Since U Been Gone' star's firstborn is certainly a cute girl, but what Clarkson is most proud about River Rose is her character, as she told People recently in an interview.
'She will run a company one day because there's no way she's gonna work for anyone. She does not heed advice very well. She's just very ballsy, which is awesome,' she said.
This might come naturally to River Rose, but Clarkson is determined to encourage her to become an empowered woman, constantly motivating her to cherish her personality and intelligence.
'I'm really adamant about everyone around us always saying like 'God, you're clever. You're smart. You're witty, you're funny' … all the other things that make character,' said Clarkson about her and her husband's parenting style.
Clarkson knows what it feels like when people focus too much on the exterior, as she was heavily criticized for her weight in the past. But recently, her fans have noticed that she has lost a great deal of weight.
The singer has revealed that she took care of a thyroid condition she suffered by changing her eating and cooking habits, sharing that she has lost 37 pounds. Read more on our Twitter account @amomama_usa
Please fill in your e-mail so we can share with you our top stories!