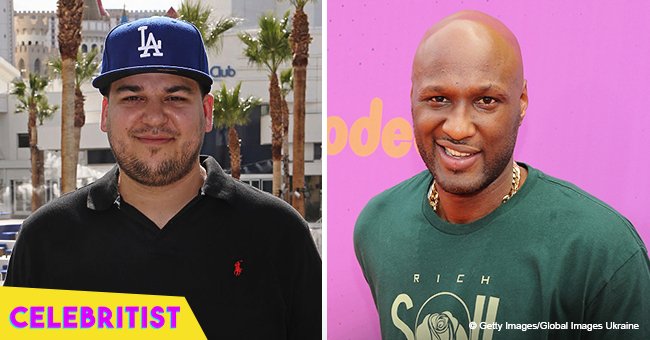 Hollywood Life': Rob K. and Lamar Odom drag Tristan Thompson amid cheating scandal
Lamar Odom and Rob Kardashian have reportedly joined forces to slam Tristan Thompson amid his cheating scandal and recent loss during the NBA finals.
A report by Hollywood Life claims Lamar Odom and Rob Kardashian spectated the NBA Finals together, getting a good laugh over Tristan Thompson's team losing. Khloe's brother Rob, 31, and ex-boyfriend Lamar, 38, made sure to watch the NBA finals wherein the Golden State Warriors swept the Cleveland Cavaliers. The two pals were thrilled to have seen Tristan's team go 0 for 4 in the finals, especially since they aren't fans of Khloe's boyfriend at all.
According to a source close to Rob,
"Rob and Lamar have been quietly trashing Tristan as he was getting swept in the NBA Finals. Rob and Lamar still text and chat all the time and they were both watching the finals closely, laughing with each other as the Cavaliers struggled against the Warriors."
The source also shared that one of the reasons as to why the retired NBA player was extremely delighted with Tristan's game 1 foul that cost him his appearance in game 2, and the Cavaliers' losing streak was because he still cared deeply for his ex-wife.
"Lamar is still hurt over how things ended with Khloe and he still loves her and misses her a lot. He likes staying in touch with Rob because it helps make him feel connected to Khloe and the family. And Lamar was loving watching Khloe's man, Tristan, struggle and lose in the finals. Lamar felt Tristan was not doing enough for his team and Rob agreed."
Rob and Lamar reportedly kept texting one another during the NBA finals, laughing about it the entire time. It's no surprise that the Arthur George Socks designer has been keeping in-touch with his sister's ex-boyfriend Lamar, especially since he is not a big fan of Tristan Thompson after hearing about the numerous cheating scandals he had while Khloe was pregnant.
Lamar Odom himself was an NBA player from 1999 to 2014, being picked in the 1999 NBA draft on the first round, as the fourth pick overall. He was married to Khloe Kardashian from 2009 to 2016, and the two remained friends even after their separation, with Lamar attending events with the Kardashian family prior to her relationship with Thompson.
Please fill in your e-mail so we can share with you our top stories!