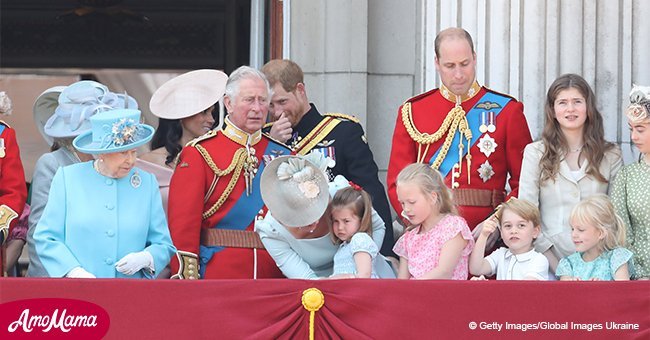 Kate Middleton shows off her quick mom reflexes after Princess Charlotte trips on Royal balcony
The Duchess of Cambridge earned adoration by showing her remarkable parenting skills yet again.
Kate Middleton is a busy mother these with the responsibilities of three children upon her. Yet on June 9, she managed to prove that she was more than adept at her mother role when she calmed a tearful Princess Charlotte who took a tumble on the Buckingham Palace balcony.
A video uploaded to YouTube by The Royal Family Channel recorded the 3-year-old royal playing with her cousin, Savannah Phillips, on the balcony railing during Trooping the Color ceremony when she slipped and bumped her head.
However, her mother was quick to notice her child in distress. She immediately gave the little royal all her attention.
When nothing seemed to work on Charlotte, she carried her little girl in her arms and comforted her. She snuggled into her mother's shoulder for a while and after some wise words of comfort from the Duchess, she was again ready to be put down on the floor.
This, however, was not the only time that the Duchess as shone as a parent. Middleton has repeatedly shown her parenting abilities during various public outings of the family.
About a year ago, she managed to handle a similar situation with Princess Charlotte while the family was enjoying a tour of Germany and Poland.
At the time, the little princess took a tumble while the Duke and Duchess of Cambridge were touring the Airbus factory in Hamburg.
Charlotte seemed frustrated after the fall and she looked like she would throw a quick tantrum. But Middleton acted quickly and again scooped her up into her arms.
Before the situation could get any worse, she managed to calm down her daughter with a cuddle and some words of comfort.
Please fill in your e-mail so we can share with you our top stories!