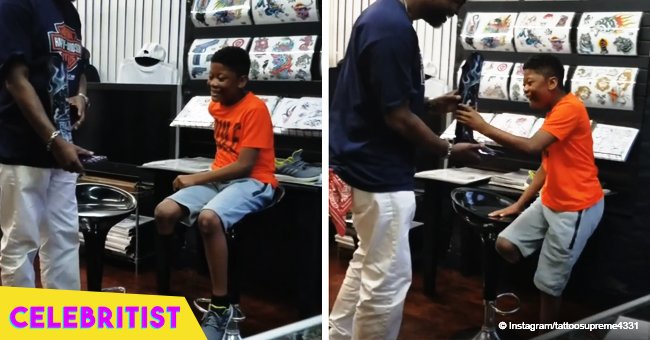 10-year-old amputee starts dancing emotionally after getting 'Black Panther' prosthetic leg
The "Black Panther" buzz is far from stopping, and now a 10-years-old kid from Raleigh will be carrying an image of the superhero on his leg, permanently. He had his leg amputated as a child, but he still can dance and play basketball with a big smile on his face.
Michael Mack's new prosthetic leg will be the envy of his classmates and friends once the new school year starts. The 5th grader is sporting an amazing "Black Panther" design on it thanks to Milton Purnell from Tattoo Supreme.
The charming boy had his leg amputated as a child when doctors realized that his tibia bone was not growing. He has been wearing a prosthetic leg all his life, and recently, when the time to make a new one arose, his mother, Sandra McNeill, wanted to give him something special.
She went to Tattoo Supreme asking for a design, and the talented Milton Purnell put all his energy into creating something amazing for Michael after meeting him. "I told [McNeill], 'Let me hook it up. Let me put something together for him.' So I kind of fed off the energy of Mikey, and I was watching him as I was talking to his mother, and I just grabbed a lot of energy from him," said the artist.
It was actually Sandra's idea to put the Marvel superhero on the design, as Michael's revealed: "I want to thank my mom for encouraging me to get the Black Panther design on my leg. He's a great superhero, so obviously having him on my leg is definitely something new to experience. It's awesome."
A video of the moment in which Michael receives the leg from Milton became viral on social media, as it shows the excited reaction of the boy after watching the piece. Covering his eyes and turning around, a visibly shaken Michael then put himself together and tries the leg, starting to dance immediately.
"I can dance. I can do back flips and front flips and cartwheels. I can do all that, it's really easy," the kid told WRAL. He can also play basketball, and despite admitting he has been bullied at school for his leg, he believes those kids are just jealous of him.
Michael has a positive attitude to life and he's full of energy. We're glad he now has his favorite superhero as part of him, he sure knows how to rock the Wakanda spirit.
Please fill in your e-mail so we can share with you our top stories!