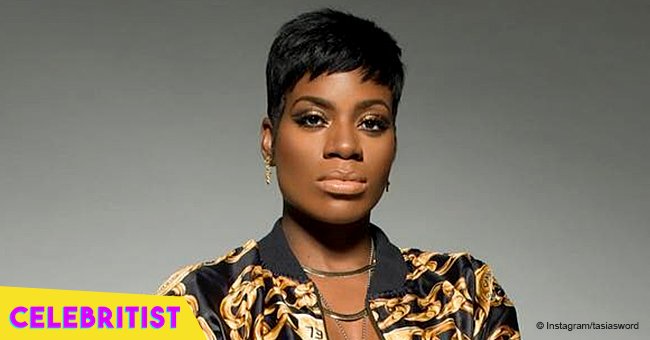 Fantasia steals the show in white top and plaid maxi skirt in recent photo
Fantasia Barrino knows exactly how to keep the spotlight on her, and she recently stunned fans with an outfit that not many people would be able to put off. The singer's youngest brother is currently recovering from a terrible accident, and she has a lot of encouraging words for him.
The former "American Idol" winner is ready to make her return with new music in the next few months. She's currently working on her Rock Soul movement and the record label of the same name that she created a few years ago. And to make the wait more pleasant, she's happy to share her better looks on social media.
In one of her recent Instagram posts, the 33-years-old singer flaunted her figure while posing casually listening to some music with her earbuds. Wearing a white t-shirt with the message "Love not Hate," and a plaid maxi skirt, Fantasia proved that she can rock whatever she wears.
Fans left her comments praising her outfit: "Yessss..... I so love u and ur style #melaningirls #shorthairrocks u looking hella good in my city," [sic] said one, and other added, "I love this skirt....and you look Gorgeous."
Barrino has been keeping a good attitude in life despite all the trials her and her family have been through in the recent months. In February, her nephew Tyquan Vonricco Washington was shot and killed in front of a home in Greensboro, North Carolina, and late last year, her own brother had a motorbike accident that left him paralyzed.
Xavier Barrino was in bed for a few months, unable to move his extremities, but he has shown an incredible willpower to get better and with therapy, he's now walking and moving again. Fantasia showed how proud she is of her baby brother by sharing a heartfelt message for the young man on Instagram.
"I know sometimes you get a little down and you feel that you're so far from all the things your Heart truly desires, but you're not! I can see it @xavierbarrino and I've dreamed it over and over that you will pick up and walk sooner than later. I look at you and I'm like Dang!! What's different? I know. You're standing taller now Lil Bro. God had to allow things to happen in order to bring forth your personal Growth. Keep going Man, keep fighting, keep crying because Grandma always told me that those are your Liquid Prayers." [Sic]
"I've watched you Fight and it's pretty Amazing and after being Hit and thrown 100ft away from your Bike, after 30 something Surgery's, Breathing Tube not being able to talk ta your kidneys failing, liver failed, broke every bone, pelvis shattered, stomach wide open, and having to be on a feeding tube for almost 6months look at you now. Thank You for being Strong." [Sic]
Fantasia is an incredible singer and an incredible sister. We're glad her brother is progressing on his recovery. Meanwhile, we're sure the Barrino will keep on entertaining us with her incredible looks.
Please fill in your e-mail so we can share with you our top stories!