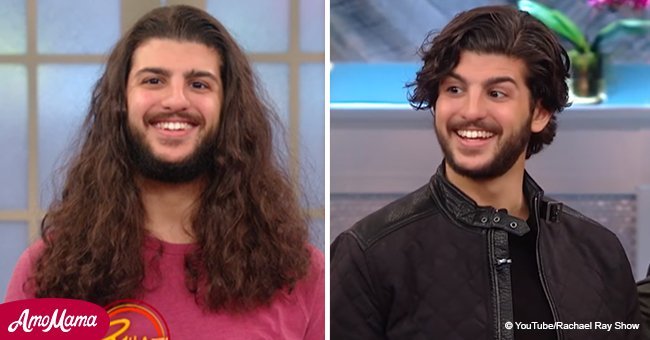 A look back at one of the sexiest makeovers on the 'Rachel Ray Show'
Guy surprised everyone by letting go of the hair he had been growing for six long years, but it was his girlfriend who was most amazed.
Men enjoy flaunting long hair as a style statement these days. But for Joe, a waiter from New York, it was more than just a fashion choice.
Joe was growing his hair for six years as an act of rebellion against his parents who once said to him that they did not like men with long hair.
A YouTube video of an episode of Rachael Ray Show presented Joe's remarkable story, in which he finally agreed to get a hairdo after a chance encounter with the hairstylist Kyan Douglas.
Douglas happened to be looking for chicken wings in New York when he entered the restaurant where Joe worked. As soon as he saw Joe's hair, he told Joe, "Man, I'm cutting that bun off and you're coming on the Rachael Ray Show."
When he agreed to get a haircut, he was invited on to the show, along with his girlfriend, Angie, who revealed that she had never seen him in shorter hair.
On the show, the anticipation of the audience built as Joe's new look was yet to be revealed to the audience along with his girlfriend. Then a moment later, Ray screamed for Joe to come out and reveal his new hairstyle.
Joe came smiling out with a smart new haircut, making the audience cheer and applaud wildly whereas Angie found herself at a loss for words.
The host of the show, Ray, also gave her approval to Joe's transformed look, saying, "You look sexy, man! This is good!"
Angie found it hard to stop herself from running over to Joe. She quickly went on the set to give him a warm embrace and prompting Douglas to tease her by saying, "Don't touch the hair though."
Please fill in your e-mail so we can share with you our top stories!