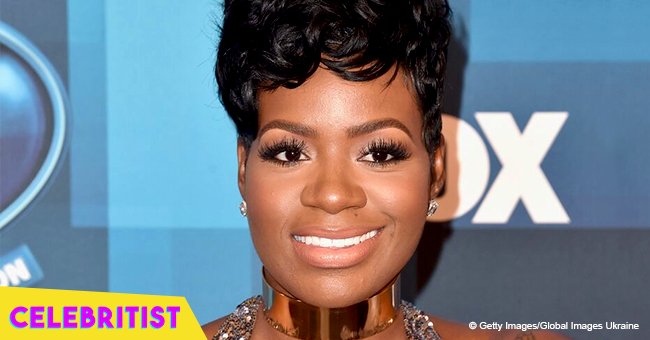 Fantasia Barrino's baby grandson melts hearts in plaid shirt with bowtie in pic with mom & dad
33-year-old R&B singer and songwriter Fantasia Barrino took to Instagram to share a photo of her stepson, daughter-in-law, and grandson.
In the photo, Treyshaun, Fantasia's stepson, was shown in a squat position wearing an aquamarine shirt, brown pants, and matching shoes. His girlfriend, Kayla, was portrayed in the same position wearing an aquamarine top, blue jeans, and brown heels.
Both of them were looking at their only son, who was also wearing aquamarine pants and bowtie, a blue and white shirt, and brown shoes. For the caption, Fantasia said that it was her beautiful family.
One of the most interesting aspects about Fantasia is that she became grandmother at the age of 32. However, it was not from a child of herself.
The former American Idol star got married to businessman Kendall Taylor, the father of Treyshaun. Even though some women might never want to be called 'grandmother,' Fantasia is embracing her role nicknaming herself 'Glam Mom,' reported Hollywood.
Fantasia has two children of her own. The first one is 16-year-old Zion Quari Barrino, who was born in 2001, when her mother was only 16, as well. Zion's father is Brandel Shouse, who was Fantasia's boyfriend at that time.
Later, in December 2011, the singer gave birth to her second son, Dallas Xavier Barrino. When she made the announcement of her second pregnancy, it was not clear who she was dating.
Even after the baby was born, Fantasia did not reveal the name of the father. However, it is known now that Antwuan Cook is the father of Dallas.
In August 2010, Paula Cook, Antwuan's ex-wife, accused Fantasia of 'knowingly pursuing a relationship with her husband despite knowledge of their existing marriage,' reported Singer's Room.
Paula took matters to court but a North Carolina judge ruled in Fantasia's favor as it was revealed that Paula and Antwuan finished their relationship in September 2009 and not in June 2010, as Paula had initially stated.
Please fill in your e-mail so we can share with you our top stories!