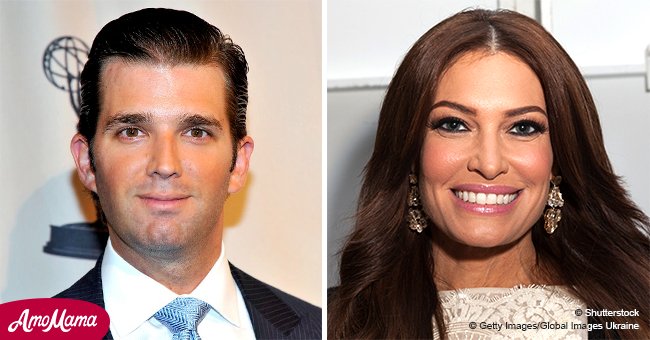 Donald Trump Jr. defends Kimberly Guilfoyle, his alleged new girlfriend
Donald Trump Jr. came out to defend Fox News host Kimberly Guilfoyle on Wednesday after what he called a 'racist' attack against her. A New York Daily News columnist had written a comment about the host.
The reason for Trump Jr. speaking up for Guilfoyle seems to be because the two might be dating. He shared his outrage in a Twitter post.
Linda Stasi, a New York Daily News columnist was attacked by Trump Jr., 40, via Twitter recently. This was because Stasi had written that Guilfoyle, 49, is 'an otherwise brilliant woman' but 'when it comes to picking men, though, she'd be better off picking grapes.'
The writer's column argued that the television host should be fired from her Fox News show The Five. The apparent reason for her wanted firing was because of her reported romantic connection to Trump Jr.
In April it was reported that Trump Jr. was dating the host after his estranged wife, Vanessa, filed for divorce in March. The New York Daily News reported that he and Guilfoyle were spotted entering her New York City apartment at around 11:30 p.m. on Monday night.
Trump Jr. was said to have been carrying an overnight bag at the time. A source also told People that the pair were together again on Tuesday night at N.Y.C. restaurant Omar at Vaucluse.
In his tweet, Trump Jr. appeared to be suggesting that the grape-picking reference was racist due to Guilfoyle's Puerto Rican heritage. He also linked to a Breitbart News article and alleged that the Daily News columnist had used a 'racist stereotype' to make her point.
'How did this get past her editors at the @NYDailyNews? Or do they condone this kind of talk? I guess hypocrisy, sexism & racist rhetoric are alive & well there.'
Donald Trump Jr., Twitter, June 13, 2018
Trump Jr. insinuated that Stasi was also 'telling a Puerto Rican woman to know her place, to go pick some grapes.' The columnist faced some criticism on social media as a backlash.
She then apologized in a tweet on the same day for what she called a 'misunderstanding.' Stasi claimed that she had no that Guilfoyle was half-Puerto Rican and that she was 'surprised anyone would have assumed such a stereotype b/c someone is half-Latina.'
The line in Stasi's column was also changed from 'picking grapes' to 'picking lottery numbers.' Guilfoyle has been a vocal supporter of President Trump.
She's also claimed to be a family friend of more than a decade. For more on this story go to our Twitter account @amomama_usa.
Please fill in your e-mail so we can share with you our top stories!