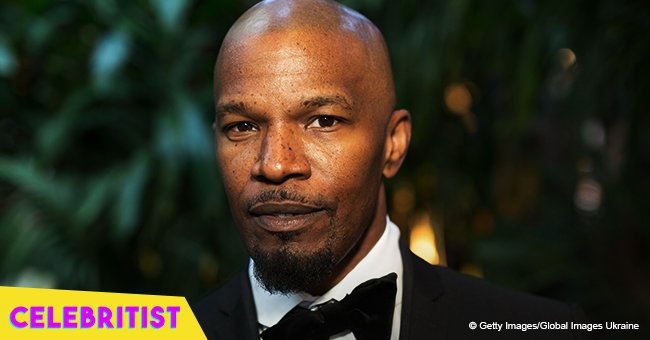 Jamie Foxx didn't approve of daughter's Coachella mesh outfit worn over her underwear
The singer/actor showed how uncomfortable he was with his eldest daughter's outfit at Coachella while visiting "The Ellen De Generes Show." The pair has a great chemistry and is taking advantage of it by hosting a TV show together.
Jamie Foxx is probably one of the coolest dads in the entertainment industry, but even the star has some limits when it comes to protecting his daughters. He's a father of two beautiful girls, Corrine, 24, and Annalise, 8.
His first-born has grown up to become a beautiful lady, and following the fashion trends, the girl is not shy when it comes to showing some skin and putting her toned body on display, just like she did on the past Coachella festival.
Corrine looked stunning wearing a black crop top and sheer long pants over a black bikini that put her toned long legs on display. She completed the look with sunglasses, a stylish hat, and a backpack. And while fans thought she was a sight to behold, her father was not so sure about her outfit choice.
The pair visited "The Ellen De Generes Show" a few weeks ago, just when the famous host was replaced by Kristen Bell, to promote their new show "Beat Shazam." Bell complimented Foxx and Corrine on their relationship, expressing how good is to see them working together on different projects.
Kristen recalled the fact that Jamie took Corrine on stage at Coachella, which prompted the singer to immediately shut off at the memories, expressing that he regrets that day because it was when he "saw his baby grow up."
While Jamie looked visibly uncomfortable, Corrine explained "He didn't approve of my outfit, which was very appropriate because people are at Coachella in like tassels… So I was fine." Photos of the girl's outfit were shown on screen then, with Jamie adding: "I'm just not prepared for all that. That's just too much for a daddy to take in right now, you know."
Kristen, a mother of two, didn't want to choose sides so she stated she understood both points of views. Foxx joked about wanting the long dresses to the floor to make a comeback.
Some fans commented on the hilarious exchange on YouTube, saying things like:
"I'd never wear that around my dad lmao Idc if I'm 40,"
"I will tell you happened to the long dress on the floor. Women now have the option to not wear these long dresses,"
"Jamie Foxx and his daughter relationship is precious to watch, you can just see how much he loves her. And great job to Kristen Bell she an amazing host."
"Jamie is so sexy...I can't believe he has a daughter that age... He looks so young still....lol"
The father-daughter duo is currently enjoying the success of their TV show, "Beat Shazam," in which three teams of two compete to identify songs played by Corrine in the quickest time.
After elimination, the winning team has to compete against the song identifying app, Shazam, and if they can guess six songs in a row before the app does, they can win $1 million.
Fans are loving Jamie's and Corrine's dynamic, and we can tell they truly enjoy working together.
Please fill in your e-mail so we can share with you our top stories!