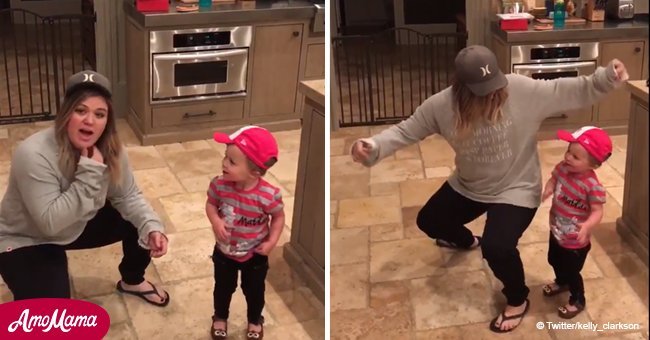 Throwback to Kelly Clarkson and tiny River Rose's sweet mother-daughter duet
The singing superstar flaunted her dance moves alongside her little daughter to raise awareness regarding diabetes.
After being nominated by actress Melissa Peterman for Diabetes Dance Dare, a dance challenge for raising awareness about diabetes, Kelly Clarkson took to Twitter and posted her amazing dancing clip with daughter River Rose.
Clarkson proudly accepting the challenge along with her little daughter River Rose, and further challenged her The Voice cast members for the dance dare.
She captioned her Twitter post, 'Challenge accepted by me & River Rose 4 #DiabetesDanceDare I now challenge the whole cast of @NBCTheVoice & @gwenstefani," including the entire cast members of the singing reality show.
Before breaking into a dance alongside her daughter, she mentioned everyone she wanted to nominate, "That's Alicia Keys, Miley Cyrus, Adam Levine, Blake Shelton. I'm gonna throw Gwen Stefani in there too, come one!"
She later tweeted to include The Voice host Carson Daly as well into the challenge.
While Clarkson was still nominating her friends in the video, her daughter seemed just too eager to get on with the dance. Her hard-to-contain excitement was just too adorable.
Finally, Clarkson turned on Salt N' Pepa's Push It and started showing off some moves. "This is totally inappropriate for a two-year-old," she told in the video.
Clarkson started shaking her hips and encouraging her daughter to do the same. "Are you shaking it?" she can be heard screaming over the song.
River Rose gave it her all and tried her best to replicate Clarkson's dance moves. In the end, the little girls easy swaying dance motion and an overjoyed smile planted on her face throughout the performance was enough to steal the show.
Fans definitely seemed impressed by the mother-daughter dance-off that was uploaded on Clarkson's feed.
One of her fans, Paula Zoutes, even commented with a feeling of gratitude, 'Thank you all for the smile to a type 1 diabetic.' She quickly got a reply from Peterman, who originally challenged Clarkson for the dance dare, 'Much love your way!'
Please fill in your e-mail so we can share with you our top stories!