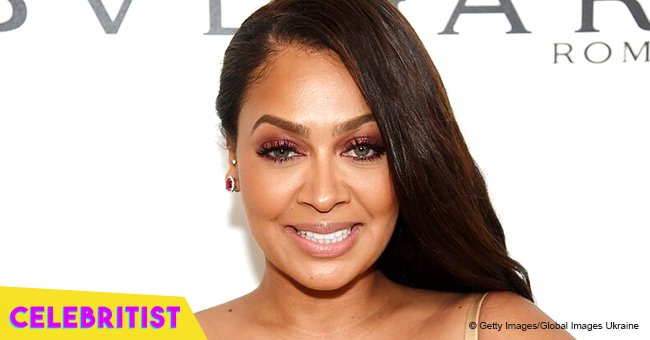 La La Anthony flaunts curves in tiny black top in recent picture with Kim K.
The television star exposes her toned abs attending an event with her BFF. But some were more drawn to one detail in the photo she posted which became a subject of debate.
La La Anthony was a total stunner during a recent outing with her pal Kim Kardashian but some are wondering why she always stays a few steps behind the reality star in photos.
The 38-year-old mother had every right to shine during the release party of Nas' new album where she was photographed with her friend Kim. She showcased her toned abs in a tiny black bandeau which she matched with tight high-waisted black pants and a red jacket. Her curvy figure was an attention-drawer along with the fact that she was walking behind Kim in a photo she posted which one fan thought wasn't right.
"Hanging with the wrong person fake. Why is lala ALWAYS in the back of this wannabe? Girls like lala and the Simmons daughters get on my nerves always letting these white women steal the shine after the white women stole the shine from the black women ….lala been on tv for years she has been a household name ..why she feels like the second fiddle is beyond me. The fanny pack looks ugly on KK. Yeh, you might think it's cute or trendy, but it's not for everyone lol we are gonna see girls all summer like this now."
Annother commenter added,
"My bestie could commit a crime and I would still be her bestie. But if my bestie supported Trump. I would cut her off."
But all that commotion doesn't seem to bother La La who appeared to be getting along just fine with her BFF and their friend Jonathan Cheban at the party. Kim was there to support her husband Kanye West who produced Nas' album. She donned a tight black outfit and sky-high boots revealing just a slit of her legs between the hem of her short dress and her boots.
LaLa and Kim's friendship is strong despite what others may think. In fact, La La came to Kim's defense in May when asked about her friend's condition after Kanye's controversial Trump statements and Khloe's struggles with her boyfriend Tristan Thompson. The 'Power' star told Page Six,
"She looks hot — the hottest she's ever looked. I mean, did you see her Met Gala look? She shut it down. You don't look that amazing if you're not in a good place."
Source: Getty Images / Global Images of Ukraine
La La was married to NBA player Carmelo Anthony but she filed for separation in April 2017 after seven years. Though she accused him of infidelity, she has no immediate plans of filing for divorce. The couple share a son, 11-year-old Kiyan.
Please fill in your e-mail so we can share with you our top stories!