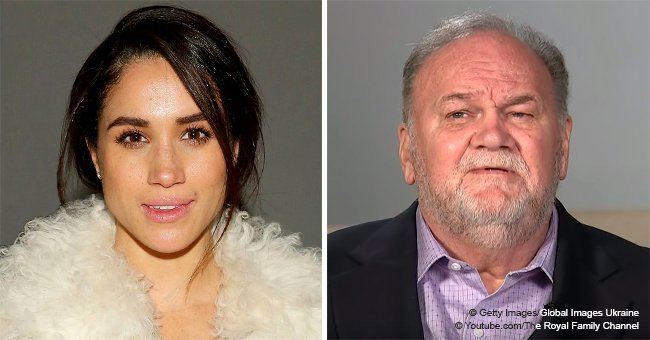 Meghan Markle's father breaks his silence on wedding: 'I was jealous, I wish it was me'
Duchess Meghan's father, the 73-year-old Thomas Markle Sr., spoke to Piers Morgan and Susanna Reid from Good Morning Brittain in a world exclusive interview.
Markle Sr. was asked to describe the moment Meghan informed him that she had a new man in her life. He said the Duchess started the conversation by saying she has a new boyfriend.
During the next phone call, she said her boyfriend is Brittish; Markle Sr approved. She only revealed that she was dating a Prince by the third phone call.
Meghan told her father that they would have to refer to Prince Harry as 'H' because their relationship wasn't public knowledge yet at that stage.
Markle Sr. said he eventually spoke to Prince Harry over the phone and described the 33-year-old Royal as a "very nice man, a gentleman, very likable."
Morgan remarked that Markle Sr. was very relaxed about the news of his daughter dating a Prince. The proud dad responded that Meghan has been a Princess since the day she was born
Markle Sr. couldn't walk his daughter down the aisle. He was recovering from heart surgery, and said he was jealous of Prince Charles for walking his daughter down the aisle, ABC News reported.
"I wish it was me but thank God he was there, and I thank him for that."
Thomas Markle Sr. Good Morning Brittain (ABC News), June 18, 2018.
Markle Sr also added that he regrets being "a footnote in one of the greatest moments in history rather than the Dad walking her down the aisle."
He hasn't met Prince Harry in person yet and has only conversed with him over the phone. He added that Prince Harry "is a smart guy," and "interesting."
They've discussed Donald Trump, Brexit and "things like that." Not surprisingly, Morgan wanted to know what Harry's views were about the President of the United States.
Markle Sr. he told Prince Harry that he doesn't like Trump, and the Prince advised him to "give Donald Trump a chance." Markle Sr. hoped that Prince Harry wasn't a Trump supporter.
This is the first interview Markle Sr. has granted since Meghan and Prince Harry's relationship went public. To learn more, follow our official Twitter account, AmoMama USA.
Please fill in your e-mail so we can share with you our top stories!