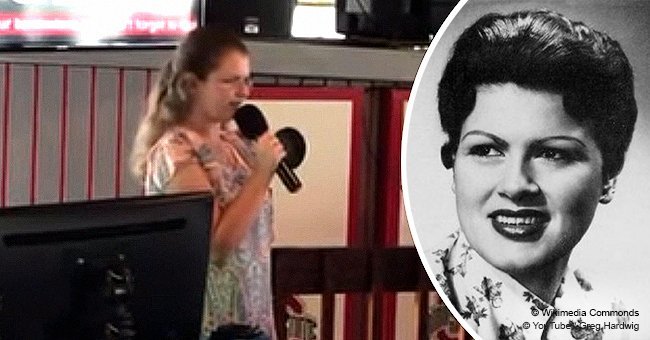 Young blind girl shows off her beautiful voice by performing iconic Patsy Cline song
The young girl is earning everyone's adoration with her soulful voice and will to pursue her passion for singing.
A video uploaded to YouTube by Greg Hardwig showed the remarkable singing talent of 15-year-old Sarah Hardwig as she belts out her version of country icon Patsy Cline's Crazy.
In the brief clip, Hardwig hit the stage at Harold's Place during a weekly karaoke night and proved that her singing talent was truly exceptional.
When she started singing out the words to the iconic country singer's song, the entire crowd was enthralled by the melody of her voice.
As soon as she started hitting a few challenging notes, there was a respectful silence among the audience, who were clearly stunned by the girl's vocal
It seemed like Hardwig made sure that everyone present at the audience would stop doing whatever it was they were doing to turn their attention toward her.
As can be seen from other videos on her YouTube channel, Hardwig has been performing anthems, operas, originals, and cover songs and earning huge adoration from the public.
Another video from 2012 showed Hardwig singing the national anthem at the beginning of the Miami Dolphins preseason game at Sun Life Stadium.
Not surprisingly, the video was flooded with comments from people who admired her talent as well as her determination to pursue her passion.
YouTube user Sabrina Kedra wrote that her talent was 'amazing' while others wrote that she was 'doing a great job.'
As the audience stood silently in respect of the anthem as well as the sweet voice of the little girl, Hardwig proved during that occasion as well that she could handle audiences of all kinds and sizes with ease and comfort.
Despite being legally blind, Hardwig is not allowing any kind of limitation to stop her from following her passion for singing. The young girl currently singing and demonstrating her talent before all over Nashville.
Please fill in your e-mail so we can share with you our top stories!