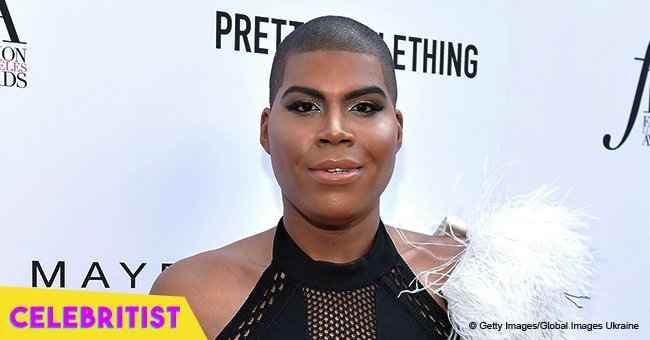 E.J. Johnson leaves nothing to imagination in leather risqué ensemble
He's famous for his irreverent, fashion-forward style, and E.J never disappoints when it comes to taking his outfits to the limit. The star recently stunned with a leather ensemble that put his skin on display, after opening up about his dating life.
The 26-years-old reality star attended the Aaliyah x MAC Cosmetics collaboration launch last week, and once again proved that he can rock any outfit he wears. He's known for breaking gender barriers with his style, always wearing clothes that are considered to be "too girly" for a man of his built.
E.J looked amazing wearing leather pants laced up along his thighs, leather strips wrapped around his torso and a golden brown blouse tied around his waist and worn off his shoulder to show some skin. He completed the look with patent leather boots, sunglasses, and a black handbag.
As the only son of the legendary Magic Johnson, E.J was first put in the spotlight while he was still on his mother's womb. At the time, Magic surprised the world announcing he was tested positive for HIV but didn't know if his wife, Cookie, and his unborn son would have the disease as well.
Fortunately, neither Cookie nor E.J ha the virus, but Magic has been working as an advocate for AIDS ever since. E.J was thrown out of the closet by TMZ a few years ago, when he was caught holding hands with his then-boyfriend while going out of a gay club.
However, he didn't let the attention and bad press to turn his life a nightmare, and instead, took advantage of all the attention to start building his own brand. Now, he's one of the most iconic young fashionistas out there, and a representative for people that, like him, want to defy society's prejudice about gender and fashion.
Rumors about E.J dating have been making the rounds for a while, and he recently opened up about his love life while visiting Jada Pinkett Smith's show, "Red Table Talk," with his mother Cookie.
In a short clip of the episode shared to Jada's Facebook, the young man is seen admitting that while he does go on dates, finding an honest partner that doesn't want to be with him just to be in the spotlight has been hard.
He said:
"It's always been a struggle. There are so many factors. First of all, the celebrity thing — who are you here for, are you dating me or are you trying to date my dad? These men either just want to be there for one thing and then don't want to stay for the real relationship part, or they just want to ride the wave and be bougie and go out and have their picture taken and do all of that."
When asked by Pinkett Smith if he has ever introduced a boyfriend to his family, he gets honest and says:
"I have not, because every time I would be ready to, something happens and then I'm like, 'Okay.'"
We can't wait to watch the full episode of E.J and his mother discussing love, sexuality and more on "Red Table Talk."
Please fill in your e-mail so we can share with you our top stories!