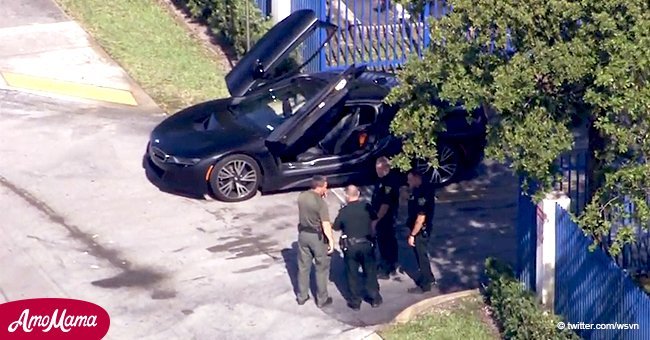 Celebrities react to yesterday's tragic death of a 20 year-old rapper

Notorious rapper XXXTentacion was discovered slumped in his car after he was shot by two armed men suspected to have robbed him. He was facing 15 felony charges at the time of his death including one involving the aggravated battery of his pregnant girlfriend.
Police in Broward County have confirmed that notorious rapper XXXTentacion has been shot and killed at the age of 20.
On Monday, the controversial artist born Jahseh Onfroy was leaving a motorcycle dealership in south Florida when two armed suspects described in a dispatch call as black men in hoodies approached him. One of the men who was wearing a red mask fired the shots and ultimately ended the life of the Florida-bred singer.
The incident happened at around 16:00 local time and was believed to be a result of a robbery. According to witnesses, a Louis Vuitton bag was taken from Onfroy's vehicle. The suspects fled the scene in Deerfield Beach in a black Dodge Journey with dark tint and black wheels. The Broward Co. Sherriff's Department tweeted that it will be offering a $3,000 reward for any tip leading to the capture of Onfroy's assailants.
Videos posted on social media showed Onfroy slumped in his car. And while he was first reported as a Level 1 trauma patient when he was transported to the hospital, he was later described as comatose before being pronounced dead less than an hour later.
Onfroy's shooting has not been connected to any existing feuds he may have though he's been notorious for his multiple legal cases. He was plagued with allegations of domestic violence and was facing 15 felony charges at the time of his death. One of his charges involved the aggravated battery of his pregnant girlfriend.
Despite his violent behavior, Onfroy's career appeared to have thrived in his notorious lifestyle. He channeled his energy and fury into his music which was a reflection of a life of disregard for humanity. His themes revolved around mental illness, suicide, extreme misogyny and a feeling of numbness.
His rise to fame was quick. He began his career in 2016 with the online success of his song 'Look at Me!' His debut album in 2017 established his prominence making him the most popular artist in the genre known as SoundCloud Rap. By October 2017, he managed to score a distribution agreement worth $6 million paving the way for his latest album to soar to the number one spot in the US.
The rapper's death brought in a wave of tributes in social media. Kanye West expressed his regret in his tweet.
"I never told you how much you inspired me when you were here thank you for existing."
Football star Daniel Sturridge described Onfroy's passing as a "sad day in music," while rapper J Cole praised him for his "enormous talent and limitless potential."
Recognizing his troubles amid his success, documentary maker Louis Theroux said,
"Notwithstanding personal demons, he was a huge talent & bringing a beautiful new feel to hip hop. So sad."
Just two hours before he was shot dead, Onfroy posted an IG story saying he was preparing for a charity event. The event was reportedly aimed at raising awareness for suicide prevention. It should be a comfort to know that in the remaining hours of his life, he was working for a good cause.
Please fill in your e-mail so we can share with you our top stories!