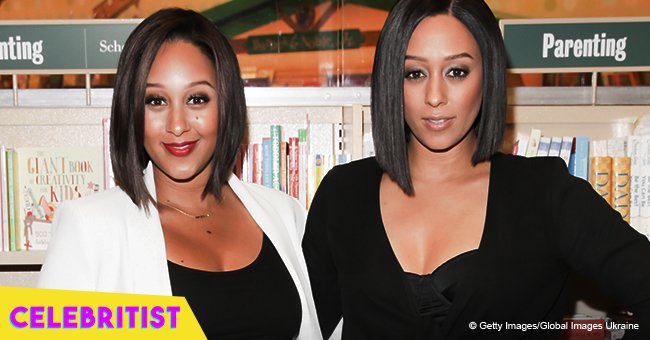 Tia and Tamera Mowry share photos of white dad proving their striking resemblance
Twin sisters Tia and Tamera Mowry took to their Instagram accounts to share photos of their father Timothy John Mowry as a way to honor him on Father's Day.
The one that Tia posted was a selfie showing the actress and her father next to each other. Tia was wearing a white shirt while her father put on a plaid blue and white shirt.
In Tamera's case, she opted for a three-photo slideshow. The first one portrayed the man in front of a war tank wearing camo shirt and cap, the second one showed Timothy next to a friend, and the third one pictured army infantry flags.
While Tia captioned her post only wishing Timothy a happy Father's Day, Tamera went on adding a couple of details about the man.
She pointed out that Timothy was the best father and grandfather and that her children 'leap for joy' when they hear his voice. Tamera confessed that the man retired as a first sergeant from the Army and that he loved his job.
The proud daughter confessed that Timothy's infantry was the best, finally adding the Charlie 1/52 infantry chant: 'Hooah! Hooah! Follow me! (who-a).'
One of the aspects that surprised a couple of the twins' fans was that their father was white. Thanks to a DNA test done specially for a segment of Tamera's show The Real, her genetic ancestry was revealed.
The results set clear that Tamera (and Tia, of course) are 53% European and 45% African. In a more detailed way, they are 21% British, 12% Irish, 8% Iberian Peninsula, 5% Western European, and 7% other European.
For the African side, the twins are 22% Ivory Coast and Ghana, 10% Cameroon and Congo, 9% Mali, and 4% other African.
If that wasn't interesting enough, Tamera and Tia were born in Germany due to the fact that Timothy was serving in that country.
Please fill in your e-mail so we can share with you our top stories!