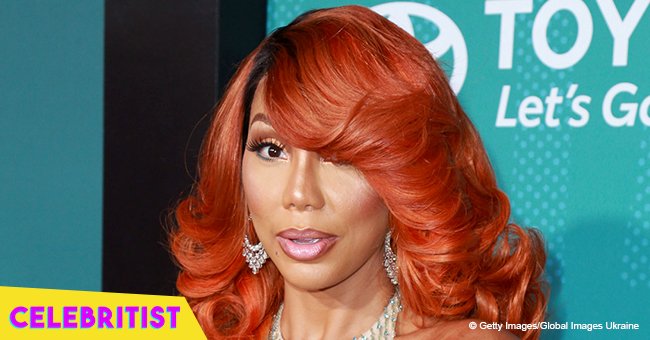 Tamar Braxton 'asked to watch son's weight' after posting kid's pic with father and grandfather
The year started rough for Tamar Braxton, but the singer is now back on track and celebrating her father and the father of her son. She recently took the whole Braxton family to Disneyland for her son's birthday, and as a result, she shared some cute family photos.
Tamar Braxton shaved her head earlier this year in order to free herself from people's opinions and start a new chapter in her life. The decision came months after she filed divorce from her husband and former manager Vincent Herbert.
Despite their differences, the former couple has been trying to work things out and have a friendly relationship for the sake of their only son, Logan, who recently turned five-years-old.
The singer wanted to celebrate another year in her son's life with all her family, so she took the whole Braxton clan, except Traci who's currently busy with other projects, to the happiest place on earth: Disneyland.
Even Michael Braxton, the patriarch of the family who has had issues with the girls' mom, was present at the week-long celebration.
While on the park, Tamar snapped some cute pictures of her family, and she shared a special one featuring her father and her soon-to-be ex-husband with Logan in order to wish them both a Happy Father's Day.
In the adorable shot, Logan is resting in his father's lap while Vincent is sporting a Micky Mouse hat with the character's ears, and Michael is leaning towards the duo with a hand on his heart. Many fans loved the adorable portrait, but as usual, other took the chance to spew some hateful comments on Tamar's Instagram.
A "fan" had the audacity to write this about the photo:
"xx.mixedbreed.xx: No offense but Logan is getting real big before you know it he will be honey boo boo (Alana) size or like his father…just saying."
Luckily, many other real fans came to the rescue to tell Tamar to ignore the hateful comments and focus on keeping her family together despite the struggles, writing positive messages like:
"nikki2sharp: That's wonderful for you and your family, Tamar! May the Lord always draw you and your family unto Himself. I'm happy for you precious one!"
"fritzziiii: @xx.mixedbreed.xx If you have to preface a statement with, "no offense," then you know it's going to be offensive. Tamar's son is none of our business."
"evanstowanda: I love this picture. Hold on to your husband Tamar because at the end of the day he has your back and he seems to be a good man who takes care of his family…"
Tamar seems to be pretty busy with her family and her business to mind some people's rude comments, and we're sure she knows exactly what's best for her adorable son and his health.
Please fill in your e-mail so we can share with you our top stories!