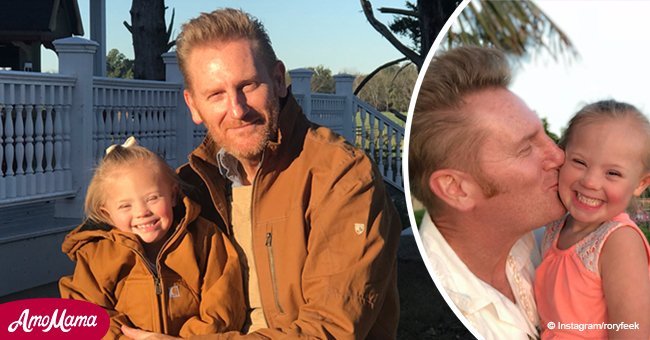 Rory Feek's daughter Indy gave him an amazing gift
The famous country music star took to Instagram to share a special moment that his daughter gave him on Father's Day.
Rory Feek's daughter, Indiana, also known as Indy, made his Father's Day even more special by wishing him a Happy Father's Day.
The country singing icon posted the video of his daughter, who suffers from Down Syndrome, wishing him before he even has had a chance to get off from his bed.
"Happy Father's Day, Papa," Indy says in the video. The loving father replies, "Thank you. Come give me a kiss."
Feek captioned the adorable video by praising God for his blessings upon him and his family. 'Thank you, Lord,' it said.
Indy was born to Feek and his late wife Joey in 2014. The little girl was diagnosed with Down Syndrome shortly after her birth. Only two years later, in 2016, Joey passed away while bravely fighting cervical cancer.
These days, Feek chronicles his life as a single dad with Indy through his Instagram as well as blog titled This Life I Live.
In one of his blog posts, the iconic singer shared that Father's Day 2018 also marks the 5th anniversary of him and Joey finding out that they were expecting a new baby.
He revealed in the blog post that Joey initially did not want to have a baby and had told him so 'dozen of times.' He explained that she refused to even think about it.
Eventually, in 2013, Joey was finally ready to have a child and trust God with their future and Indy was born only a year and a half later.
Feek wrote that from the very first moment that Joey held Indy in her arms, she felt unconditional love for the very first time. 'She knew in that moment what life was truly all about,' he further wrote.
Follow us on Twitter to learn more!
Please fill in your e-mail so we can share with you our top stories!