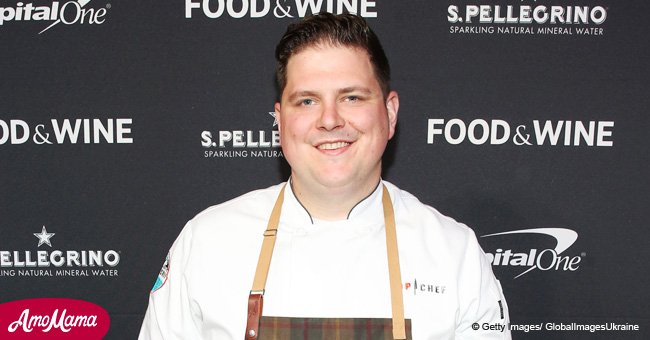 'Top Chef' winner Joe Flamm and wife expecting their first child
Joe Flamm, the famous winner of Top Chef season 15, revealed that he and his wife, Hillary Delich, are expecting their first child.
The announcement was made on Saturday, June 15, 2018. The proud chef, who is currently the executive chef at Spiaggia, an Italian restaurant in Chicago, couldn't be prouder and happier.
Flamm shared the amazing news with his friends, fans and followers on Instagram by posting a photo of himself posing for the camera with his life partner.
The couple first announced the news at the Food & Wine Classic in Aspen, Colorado, but didn't resist showing the world that they were about to enter a new chapter of their lives together.
According to Flamm, being married to Delich has been a very happy ride, and that happiness could be found within a photo of their wedding day that the Top Chef posted on his Instagram page.
"Happy 3 years to my partner and best friend. I don't think either one of us stopped smiling that day once, and haven't stopped much since either. I love you @hillarydelich let's be roommates forever."
Joe Flamm, Instagram, May 22, 2018
The picture of the pregnancy announcement was also very special for Flamm not only because of the news itself but because of the place in which it was taken.
The happy snap was captured in Aspen Mountain, the same spot where Padma Lakshmi, the host of Top Chef, announced Flamm as the winner of the cooking competition.
Flamm revealed that he couldn't wait to meet their baby, whose birth is expected to take place around November. Delich also posted the Aspen Mountain photo on her Instagram page, sharing her husband's feelings towards their 'flammbino.'
Flamm has been keeping himself busy at the Spiaggia since his Top Chef experience but, although he loves working at the restaurant, the Chef would enjoy having and running his own business.
If you are interested in learning more about Joe Flamm and Hillary Delich, please consider following us on our Twitter account @amomama_usa.
Please fill in your e-mail so we can share with you our top stories!