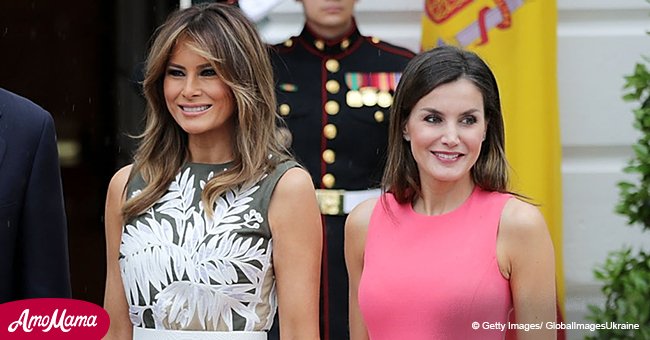 Melania Trump wore chic olive and white Valentino dress to meet Queen Letizia of Spain
The First Lady of the United States of America dazzled in an elegant Valentino creation while welcoming the King and Queen of Spain to the White House.
Melania shared a photo of the visit on Twitter, and wrote in the caption that she and Queen Letizia 'enjoyed tea and time together focusing on the ways we can positively impact children.'
As reported by Harper's Bazaar, King Felipe VI and Queen Letizia were in the States as part of an official visit.
Melania chose a sophisticated dress with an olive-colored floral print and matching stilettos while Queen Letizia opted for pink hues instead.
She wore a pink dress with a silver belt and matched the outfit with pink stilettos, while both President Trump and King Felipe wore suits with blue ties.
In Style noted that while Queen Letizia chose an American designer, Melania turned to Italian fashion Valentino instead of selecting a Spanish designer.
Michelle Obama, on the other hand, made an effort to wear a design from the country of her guests, out of respect.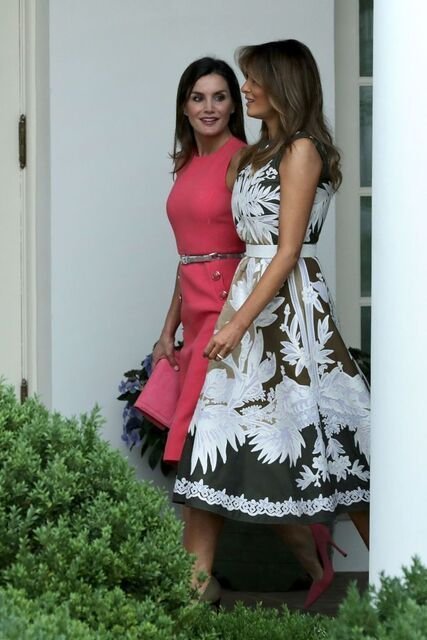 Source: Getty Images
CNN's Kate Bennet noted on Twitter that the Royal Couple and the First Couple had tea in the White House's Red Room after hosting a press conference in the Oval Office.
Before stopping by the White House, the King and Queen toured through Texas, New Orleans, and San Antonio.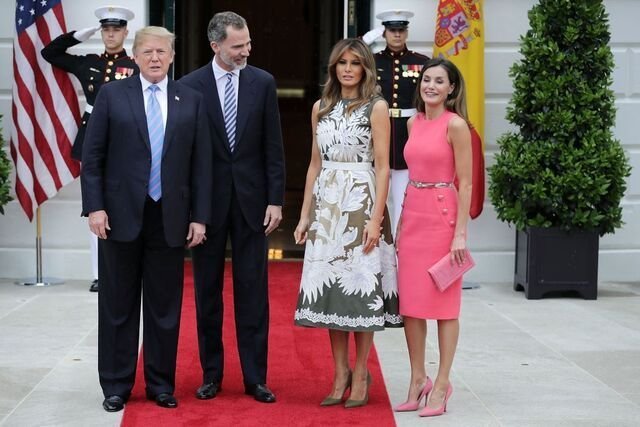 Source: Getty Images
According to Daily Mail, they said Washington was the perfect destination to end their trip and added that Spain and America share a common history and heritage.
The Royal couple had visited the White House on six previous occasions, but this was their first trip during President Trump's administration.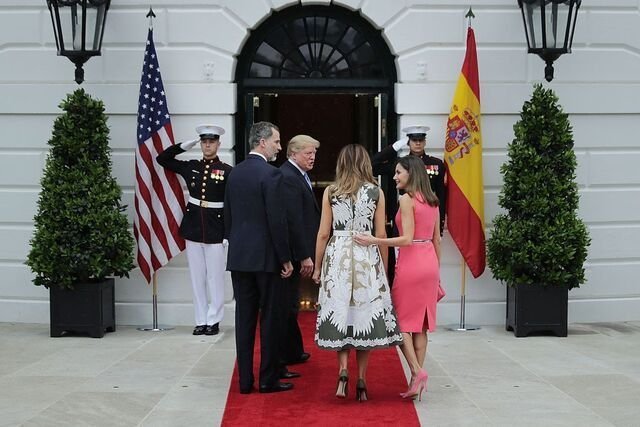 Source: Getty Images
They have one more stop planned, and that would be to meet Senator Mitch McConnell, Congressman Paul Ryan and Congresswoman Nancy Pelosi at Capitol Hill.
President Trump's itinerary includes a possible visit to Queen Elizabeth at Kensington Palace during July. To stay informed, follow our official Twitter page, AmoMama USA.
Please fill in your e-mail so we can share with you our top stories!