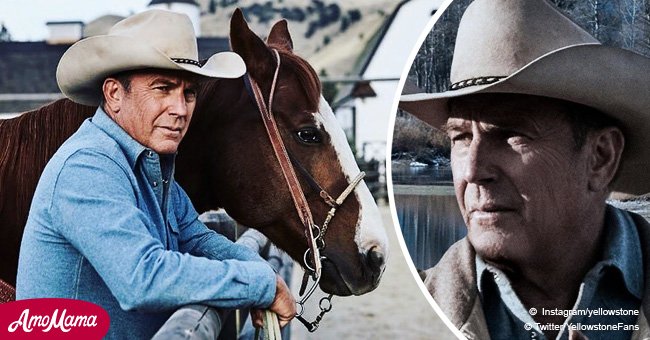 Kevin Costner returns to screens in all-new Western TV series
The actor is known for his role in old Western movies, and he has now landed the lead in a Western series with a modern twist.
It was recently announced that Kevin Costner would be taking the lead in a new series, Yellowstone, that sees him once again portraying his familiar cowboy role.
Paramount confirmed the news on their website when they added the series to their website, along with a cast list and a synopsis of the first episode, which aired on June 20.
The 10-episode drama series is being filmed in Montana and Utah, and sees the 63-year-old actor in his first regular television role following an illustrious film career.
Costner plays the role of John Dutton, whose family has owned the largest ranch in Montana for generations.
The widowed patriach is caught in a battle to preserve his ranch, Yellowstone, against threats from the government, develops, a Native American Chieftan, and even his own four children.
But living in modern times, it's not as easy as simply serving "rough justice" to those battling against him.
"The hardball rules out there aren't flying anymore," Costner told USA Today. "One hundred years ago, (his actions) wouldn't have been investigated. (But) we can't operate in a world like that anymore, and that's a problem for John."
While there's no question that Dutton's moral compass does always align with that which is legal, he needs to believe that what he is doing is right for himself, explained Costner.
"I need to root for myself. I need to understand why I'm doing things. I need to have my own level of doubt," he said. "There are a lot of us that come off really certain and then we close the door behind us and go, 'Did I do the right thing?'"
Costner is known for his roles in films such as Dances With Wolves, Wyatt Earp, Open Range, Silverado, The Untouchables, Bull Durham, JFK, and, Hidden Figures.
Yellowstone director Taylor Sheridan credits Costner's performance in Dances With Wolves with reigniting the interest in old Western movies.
"We were entering an era where the Western had sort of died … and Dances With Wolves relaunched the genre, and reinvented it to a degree," Sheridan said.
But Sheridan also made it clear that no one else would have been able to carry the role of John Dutton in the way that Costner does.
"Occasionally, you create a character and a world, and it can only be populated by one person," Sheridan said. "He helps me make an audience question who they're rooting for, or why they're rooting for someone doing things they don't agree with."
For Costner, the only similarity he sees between his previous Western films and Yellowstone is in the quality of the series. The actor's greatest reason for enjoying this type of film or series is the connection to the great outdoors.
"You can do a courtroom drama or wake up and look at the Continental Divide. You can look at being the same valley that Lewis and Clark went down and close your eyes and understand that probably at one time you're standing in the Garden of Eden," he explained.
Please fill in your e-mail so we can share with you our top stories!