'The Ranch' star shows off her excellent figure in a black bikini
Actress Kelly Goss stunned her social media fans and followers by posting a coastal picture of herself in a black bikini.
Star of the show The Ranch, Kelly Goss, posted two photos of herself on Instagram enjoying her break at the beach on May 19. She was seen sipping her summer drink in a spaghetti bikini top and high-waist denim shorts.
Goss was seen looking skywards with her dark shades and her summer hat on in the first photo. Her golden tresses were interlocked in a messy braid. 
In the second photo, Goss beamed her signature smile at the camera as the posed sitting very close to the beach. She captioned the photos she took at the Descanso Beach Club by calling it her 'island living.'
Her photos gained traction and her fans and followers showered them with praises, compliments, and well wishes in the comments section.
One fan, Michael, commented that Goss was one of the most breathtakingly gorgeous people that he had ever seen. He admitted that he was a big fan of her show The Ranch and felt like a 15-year-old whenever Goss showed up on it.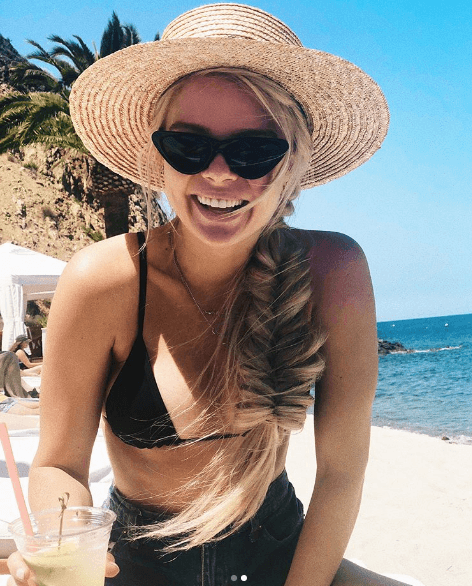 Another fan, Sarah Kauffman, complimented Goss' good looks and said that the 26-year-old star was a natural beauty. The user also shared that she wanted to see more episodes of The Ranch as she recently became a huge fan.
Followers, Guillory Dustin and D Letty, loved Goss' intricate braid-work and said that her hair made her look even more beautiful while netizen Miles Sanches preferred Goss's pink hair and did not seem pleased with her blonde hair.
One user, J Wilmers, not only complimented the beauty of the actress but also appreciated the photographer while Mark Anthony Miller found the photos 'hot'. He also called Goss to be a very talented actress.
26-year-old Goss made her mark in the television industry after being cast as Courtney Sloane on The Young and The Restless in 2013. She bagged the role of Heather on The Ranch in 2016 which released its 3rd season on June 15.
Read more about Kelly Goss on our Twitter account @amomama_usa.