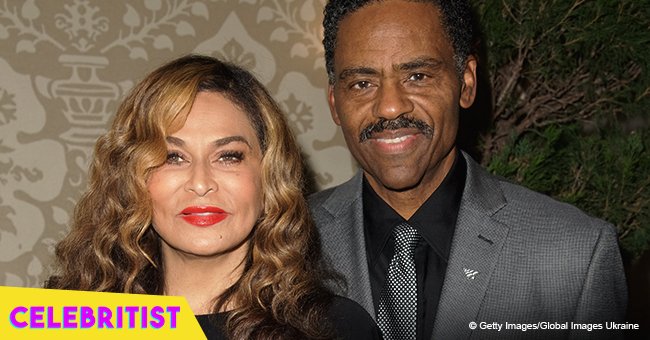 Tina Lawson and husband are all smiles in precious selfie during their Houston Trip
Tina Knowles-Lawson and her husband Richard were all smiles as they posed for a selfie during their daytrip to Houston, Texas.
After taking a trip to London to witness her daughter Beyonce and son-in-law Jay-Z during their "On The Run II" tour, Tina headed to Texas with her husband Richard Lawson for a quick day trip. Prior to their arrival in Houston, the proud mom has been sharing bits and pieces of her children's tour, which was all sold out.
Tina shared an amazing video of the London concert being extremely full, with the arena filled with so much people that not one empty seat could be seen.
"London is lit!!!! 99 problems but empty seats ain't one! Haters stop"
After a while, Tina proceeded to share videos of her daughter performing, including a high-energy performance of "I Woke Up Like This". In the video, Beyonce could be seen having fun with the song while she danced with her backup dancers as she sang the lyrics.
Expressing how proud she was of her son-in-law as well, Tina filmed herself rapping along to one of his songs, while dancing with the crowd. In the video, concert-goers positioned at the very front of the barricades could be seen rapping and having fun with Tina.
"My son in Law is killing it. when the negatives try to occupy your space Dust your shoulders off!!!"
After a great night at the concert of her kids, singing along and dancing to their top hits, Tina hopped on a plane to head to Houston, where she was met by her lovely husband Richard.
Before posting her selfie with her hubby, Tina first took a video of herself sitting on an airplane seat while saying a "corny joke", which is something she has been doing.
Later on, she posted the adorable selfie with her husband, whom she recently just celebrated her third anniversary with. The two of them looked extremely good to be back in Houston, although they only enjoyed the town for a day.
According to a previous interview between People Magazine and Tina Knowles-Lawson herself, the couple has her granddaughter Blue Ivy to thank for their beautiful marriage.
While on a yacht with Beyonce and Jay-Z for her birthday, she came out looking all dressed and glamorous for the dinner. When her lovely granddaughter saw Richard and Tina together, she shared the funny yet life-changing conversation they had.
"We went on a boat with Beyonce and Jay-Z for her birthday, and we came out one night dressed to go to dinner, Blue said, 'Oh, ya'll look beautiful. When are ya'll getting married?' Richard said, 'Oh, Blue, soon. Do you approve?' and she said 'Yes'. That's the first time we talked seriously about getting married."
The couple did end up getting married on a yacht in Newport Beach, California in April 12, 2015. They were surrounded by their family and friends, including Solange and Beyonce with their husbands Alan Ferguson and Jay-Z.
Please fill in your e-mail so we can share with you our top stories!